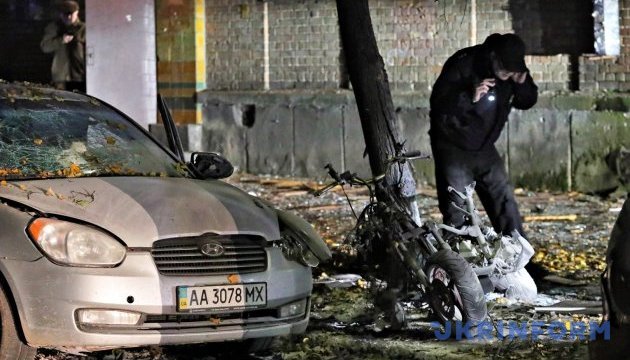 Security camera captures explosion in Kyiv
A security camera has captured the moment of an explosion in Kyiv late on October 25 during an assassination attempt on Ukrainian MP Ihor Mosiychuk.
A video clip was released on the Espreso.TV channel on YouTube.
The footage shows men leaving the building at 10 Adam Mickiewicz Street in Kyiv. After that a bomb planted near a motor scooter explodes.
As reported, at about 22.05 on Wednesday, October 25, an explosion with the force of at least one kilogram in TNT equivalent occurred outside the office of the Espresso.TV channel on Adam Mickiewicz Street in Kyiv.
Ruslan Kushnir, a security guard of Radical Party MP Ihor Mosiychuk, a 31-year-old senior police sergeant, was killed in the incident.
At the same time, the MP, political analyst Vitaliy Bala and two other passersby were injured.
The incident was qualified as a terrorist act. The Ukrainian Security Service (SBU) will oversee the investigation.
It was reported in the morning that one more person injured in the explosion, 36-year-old Mykhailo Mormil, who served as an employee of the legal department at the Interior Ministry until 2015, died in hospital.
op