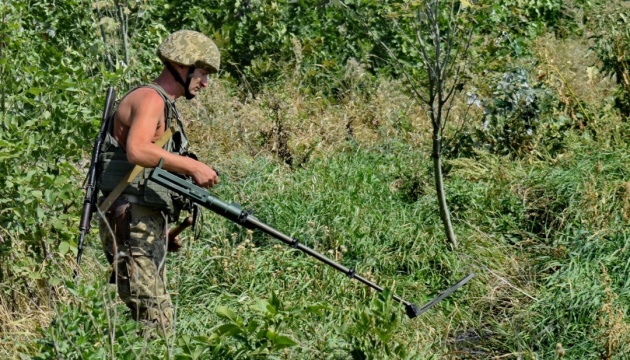 Mine action strategy should be developed by year-end - Svyrydenko
The mine action strategy for Ukraine should be worked out by the government by the end of 2023.
This was stated by First Vice-Prime Minister Yulia Svyrydenko, who spoke at the United for Justice. United for Nature conference.
"A very important aspect of demining efforts in Ukraine is proper planning. Planning our response at the global level. This means strategic planning and demining strategy development. Therefore, we are currently working together with international partners on this strategic document called the Mine Action Strategy. We have a very clear schedule and we would like to have it approved by the end of the year," she said.
According to Svyrydenko, the strategy has three main objectives: the return of the land to productive use, prevention of and protection against accidents, and the buildup of a better mine action architecture in Ukraine.
The official pointed out that almost 174 square kilometers of Ukrainian territories are potentially contaminated by mines and other explosive remnants of war. "And if we fail to respond effectively to this challenge, we will have more than 9,000 casualties by 2030. That is why we must focus on the issue and channel all our resources and efforts to accelerate demining procedure to effectively return farmland and have farmers actively utilize it, and, of course, to protect Ukrainians," she said.
Svyrydenko noted that the government of Ukraine is now trying to deregulate the certification procedure "so that international companies can enter the Ukrainian market and take part in one of the world's largest mine clearance campaigns."
According to the official, 29 units of demining equipment and 3,000 sappers currently operate in Ukraine. It is expected that by the end of the year, the figures will rise to 60 units of demining equipment and 5,000 sappers. "But this is not enough, and we may need a thousand years to compete demining. After all, we have a very ambitious goal – to return 80% of potentially contaminated land to use in 10 years. To this end, we need to have a really good combination with our partners outside the country, as well as really good coordination within the country," she said.
As Ukrinform reported earlier, the objective terms for demining the entire territory of Ukraine can be assessed only after the war ends. However, priority demining, including of Ukrainian farmland, can be completed within five years.