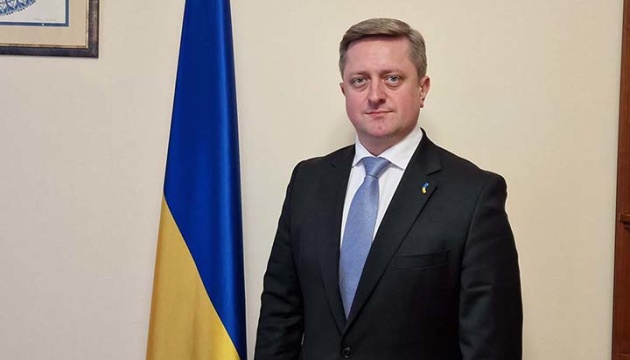 Grain issue not to divide Ukraine, Poland - Ambassador Zvarych
Ukraine and Poland will eventually reach an understanding on the topic of Ukrainian grain, which is unable to divide the two neighboring countries.
This was stated by the Ambassador of Ukraine to Poland, Vasyl Zvarych, who spoke in an interview with Ukrainian Radio, Ukrinform reports.
"There is nothing that would disturb or undermine the strong foundation of our friendship and brotherhood with Poland, as the Polish and Ukrainian societies stand guard over these relations. And they both have no interest in our relationship worsening. Therefore, I believe nothing will change our strategic approach to building relations with Poland. These discussions, which are currently ongoing in the economic field, are only a small part of what is happening in the relations between Ukraine and Poland. Meanwhile, the vast majority of issues, indeed, are developing very positively," the diplomat said.
According to the diplomat, in order to resolve misunderstandings, in particular, regarding Ukrainian grain, good will is needed to engage in a constructive dialogue. As the ambassador assured, there is such good will from the Ukrainian side.
"We see that lately it is the Ukrainian side that initiates the dialogue and makes certain constructive proposals, including in the issue of Ukrainian grain exports to Poland. Just yesterday there was a phone call between our agriculture ministers, which I believe was very constructive. We presented our proposals to the Polish side. The Polish side took a break to process these proposals and develop appropriate mechanisms in their country. Therefore, I hope that we will be able to reach an understanding and the issue of Ukrainian grain will not divide us. And we will only cooperate together in order to develop a joint mechanism for how to act today and in the future," Zvarych stressed.
He expressed the opinion that the Polish side also has a desire for settlement.
"From the perspective of yesterday's call between the ministers of agriculture, there is a desire to settle the situation on the Polish side. Therefore, we just need to take a break now for the Polish side to process our proposals. We agreed that in a week or two, our ministers will have another phone call. And perhaps, already during that call, some concrete answers will appear from the Polish side on how we should move forward," the ambassador said.
As Ukrinform reported earlier, Polish Minister of Agriculture Robert Telus said that the grain talks with Ukraine are seeing progress.