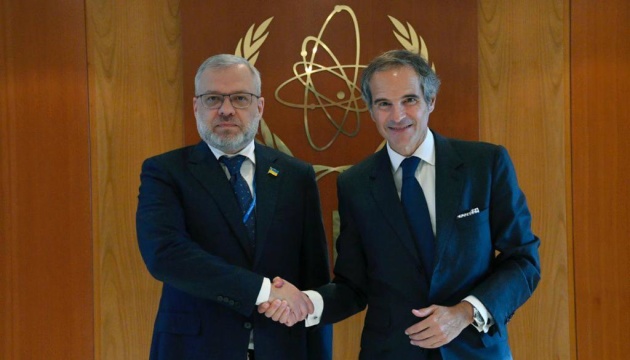 Energy ministry: Ukraine needs IAEA's assistance in preserving functionality of nuclear plants
One of the key areas of cooperation between Ukraine and the International Atomic Energy Agency (IAEA) should be the restored operation of Zaporizhzhia Nuclear Power Plant (NPP) after Energoatom National Nuclear Energy Generating Company of Ukraine regains control over it.
The relevant statement was made by the Ukrainian Energy Ministry, following a meeting between Ukrainian Energy Minister German Galushchenko and IAEA Director General Rafael Mariano Grossi, an Ukrinform correspondent reports.
According to Galushchenko, Ukraine needs international assistance in restoring the operation of Zaporizhzhia NPP after Ukraine's legitimate operator regains control over it. In this regard, the presence of IAEA missions at Ukrainian nuclear power plants is especially important, as they allow the international community to monitor the consequences of Russian attacks on Ukraine's energy infrastructure, including their impact on compliance with the basics of nuclear and radiation safety.
In the course of the meeting, Galushchenko emphasized that Russia ignores any recommendations of the IAEA regarding the de-occupation of Zaporizhzhia NPP and does not pay attention to the presence of IAEA representatives at the plant. Zaporizhzhia NPP has been standing idle for over a year due to Russian occupation.
"These are the new challenges for the whole world, which is faced with questions that never existed before: How to bring back to life a nuclear facility that had been seized by one of Member States of the IAEA? How will we resume the plant's operation after de-occupation? The world has never had to deal with such situations before," Galushchenko noted.
Meanwhile, the Ukrainian minister thanked the IAEA chief for his efforts to resolve the situation regarding Russia's seizure of Zaporizhzhia NPP.
Photo: Ukrainian Energy Ministry