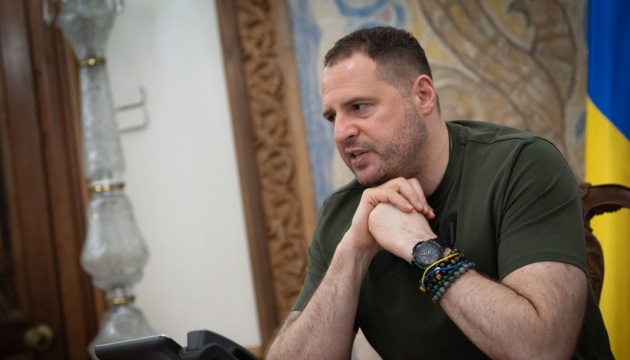 Yermak discusses free trade protection with WTO head
On behalf of the Head of State, the head of the Presidential Office Andriy Yermak met with Director-General of the World Trade Organization (WTO) Ngozi Okonjo-Iweala.
The Office of the President of Ukraine (OP) reported this, Ukrinform saw.
The main topic of the meeting was the protection of free trade, in particular in the Black Sea region, which is under threat due to Russia's war of aggression against Ukraine.
The head of the OP focused on Russia's deliberate destruction of Ukraine's transport and agricultural infrastructure and the blockade of Ukrainian ports, which the aggressor country uses to disrupt trade flows (primarily supplies of Ukrainian agricultural products) and for the purpose of food blackmail.
"Russia's actions pose a direct threat to food security and violate the freedom of trade, particularly in the Black Sea," Yermak emphasized.
In this context, he proposed to consider the possibility of involving the WTO in implementing the second point of the Ukrainian Peace Formula, Food Security.
"Your personal authority and the WTO's influence on international trade can play an important role in implementing the Food Security clause of the Peace Formula. This is not only about restoring international law and free trade but also about stabilizing prices on the world market and access to agricultural supplies for the poorest countries, where Ukraine's influence is very significant," the head of the OP emphasized.
The interlocutors agreed to make efforts to restore full exports from Ukraine, strengthen food security in the world, in particular through the humanitarian initiative Grain from Ukraine, strengthen the role of the WTO in restoring peace in Ukraine, and overcome poverty and hunger in the world.
As Ukrinform reported, Minister of Agrarian Policy and Food Mykola Solskyi discussed Ukraine's contribution to global food security with WTO Director-General Ngozi Okonjo-Iweala.
On August 17, Director-General of the WTO Ngozi Okonjo-Iweala arrived on a visit to Ukraine.