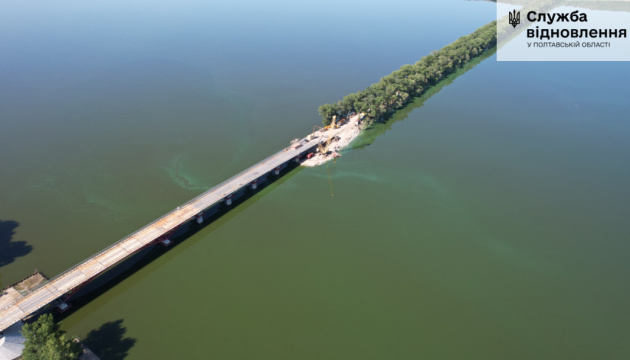 Metal girder structure on bridge over the Sula fully assembled
Road builders have fully assembled a metal girder structure on the bridge over the Sula on the H-08 Boryspil-Mariupol motorway.
This is reported by Ukrinform citing the press service of the State Agency for Infrastructure Recovery and Development.
"The metal span structure has been fully installed on the bridge over the Sula River. The work is part of the major overhaul of a part of the bridge on the H-08 Boryspil-Mariupol road. The bridge provides transport links between the north, center and south of Ukraine - the Kyiv, Cherkasy, Poltava, Kirovohrad and Dnipro regions," the statement said.
The agency said that the contractor has completed the installation of expansion joints, support parts, and railings. The technological overpass and sheet pile fencing were completely dismantled. The bridge width has increased from 6 to 9 metres.
Currently, work at the site has been temporarily suspended due to the lack of some materials, including a waterproofing system. Work will resume once the necessary materials are delivered. The bridge remains closed to all traffic.
As reported, since the beginning of the full-scale invasion, 346 bridges have been destroyed across Ukraine, 157 of them on state roads. As of the end of May 2023, road builders managed to restore 45 relevant facilities and install 85 temporary crossings.