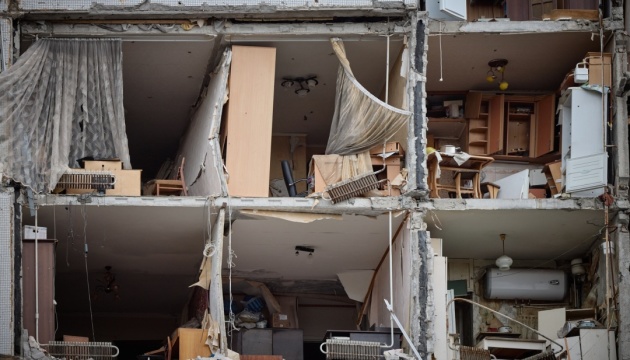 Ukraine's infrastructure suffered losses worth $143.8M due to Russian armed aggression – KSE
The total amount of losses suffered by Ukraine's infrastructure due to the Russian full-scale invasion has already reached $143.8 billion.
The relevant statement was made by Kyiv School of Economics (KSE), an Ukrinform correspondent reports.
"As of February 2023, the total amount of damage caused by Russia to Ukraine's infrastructure during the full-scale war has increased by another $6 billion and is now estimated at $143.8 billion (at replacement cost)," the report states.
According to the researchers, over 150,000 residential houses were damaged or destroyed after one year of hostilities. The losses from destructions in the housing stock came to $53.6 billion.
In terms of the damage suffered, infrastructure objects were ranked second. The amount of losses in this area after one year of hostilities was estimated at $36.2 billion. Over 25,000 kilometers of public and local roads were destroyed or damaged, as well as 344 bridges and bridge crossings.
The amount of losses suffered by Ukrainian forests came to $4.5 billion.
A total of 3,170 educational institutions were damaged or destroyed, namely about 1,500 secondary schools, 909 pre-school facilities and 528 higher educational institutions. In late February 2023, the amount of losses suffered by Ukraine's educational sector increased by $300 million and reached $8.9 billion.
Additionally, a total of $8.1 billion worth of losses were recorded in Ukraine's energy sector.
The amount of direct losses inflicted on Ukraine's agro-industrial complex and land resources rose by $2.1 billion, totaling $8.7 billion.
In February 2023, the amount of damage caused to Ukraine's transport sector increased significantly. In contrast to late 2022, the number of vehicles damaged or destroyed increased to 223.4 thousand, and the amount of losses came to $3.1 billion.
The area of trade suffered losses worth $2.6 billion and health infrastructure – $1.8 billion.
Meanwhile, the amount of damage caused to Ukraine's manufacturing industry and enterprises decreased to $11.3 billion in view of the revaluation of the status of enterprises after receiving updated information about the damage to assets caused by shelling. Some enterprises were re-classified and will later be included in the calculations of losses in other economic sectors.