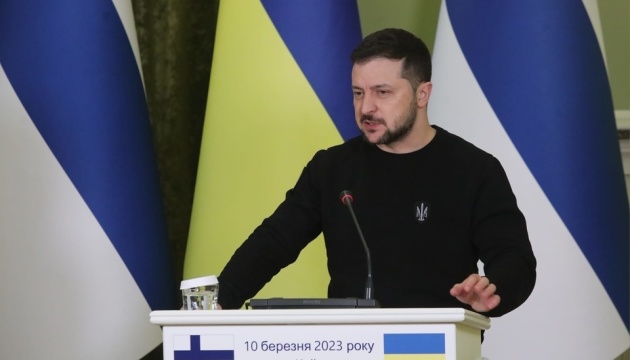 Zelensky calls for global sanctions to block Russia's missile potential
President Volodymyr Zelensky of Ukraine insists on putting pressure on individuals and entities in Russia and other countries who help the aggressor state restore its missile potential and obtain technology.
He stated this during a joint press conference with Prime Minister Sanna Marin of Finland in Kyiv, an Ukrinform correspondent reports.
"It is important to put pressure on all entities and individuals of the terrorist state who participate in this (missile - ed.) attack and the missile program, and on all actors in other countries who help Russia pursue this terror. We must come to have global sanctions imposed, completely blocking any possibilities to restore Russia's missile potential, obtain new drones, new technology, etc.," Zelensky said.
In addition, he emphasized the importance of preventing Russians from circumventing EU sanctions through trade with third countries.
"This applies to goods that are critical for the terrorist state's military industry and other industries that support and directly sponsor Russia's war and aggression," the president added.
As reported, Prime Minister Sanna Marin of Finland is visiting Ukraine on Friday.