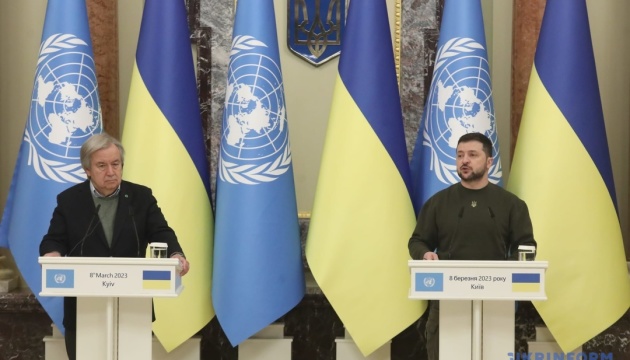 Zelensky, Guterres call for extension of grain deal
Ukrainian President Volodymyr Zelensky has said that together with UN Secretary General Antonio Guterres, they supported the need to extend the Black Sea Grain Initiative.
Zelensky said this at a joint press conference with Guterres in Kyiv on Wednesday, March 8, according to an Ukrinform correspondent.
"We agreed today that the extension of the Black Sea Grain Initiative after March 18 is critically necessary for the whole world," Zelensky said.
Video: Office of the President of Ukraine
Zelensky also thanked Guterres for "unchanging assistance to our efforts for the stability of food markets and food exports."
At the same time, he emphasized the importance of continuing the work of the Grain from Ukraine humanitarian initiative, recalling that almost $200 million has already been raised and more than 140,000 tonnes of Ukrainian grain has been sent to Europe, Kenya, Ethiopia, Somalia, countries, suffering from hunger.
"I am sure that together with the UN we can significantly strengthen this initiative of ours, as well as the Black Sea Grain Initiative. This will provide even more guarantees of global food security," Zelensky said.
He added that today he was happy to welcome UN Secretary General Antonio Guterres and the UN delegation to Kyiv for the third time since the beginning of Russia's full-scale invasion.
"It is very important that it is in Kyiv that we are talking about how to restore peace and international security, the full force of the UN Charter – the norms that are equally important for all peoples on earth," Zelensky said.
Guterres arrived on an official visit to Kyiv on Wednesday.
In Istanbul on November 17, 2022, Ukraine, the United Nations, and Turkey agreed to extend the Initiative on the Safe Transportation of Grain and Foodstuffs from Ukrainian ports for another 120 days. The initiative was launched on July 22, 2022. The first ship with Ukrainian food products left the port of Odesa on August 1. The agreement expires on March 18, 2023.