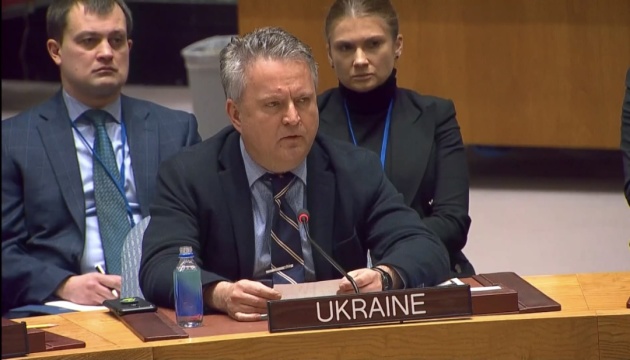 Russia creates obstacles to Black Sea grain initiative – Kyslytsya
At a meeting of the UN Security Council on Monday, Permanent Representative of Ukraine to the United Nations Sergiy Kyslytsya spoke of the humanitarian effects of the war unleashed by Russia against Ukraine, an Ukrinform correspondent reports.
According to Kyslytsya, Ukrainian law enforcement officers have already documented the damage and destructions caused to 77,463 civil infrastructure facilities. Over 2.4 million Ukrainians have to live in the damaged or destroyed premises.
Following the preliminary estimates, about 30% of Ukraine's territory has been contaminated with explosives due to Russian armed aggression. Retreating from northern and southern Ukraine, the Russian military were mining fields and roads, bridges, residential areas, etc.
Kyslytsya noted that, turning Ukraine's fertile lands into mine fields, Russia is further exacerbating the global food crisis, which had already been ignited by the war.
In his words, now Russia is actively creating obstacles to the Black Sea grain initiative, preventing inspection procedures.
As of February 1, 2023, due to Russia's obstructive actions, a total of 114 vessels were waiting in line for inspection within Türkiye's territorial waters. The number of vessels leaving ports is remaining critically low (up to three vessels per day). As a result, food exports reduced by about 30% compared to the previous month.
mk