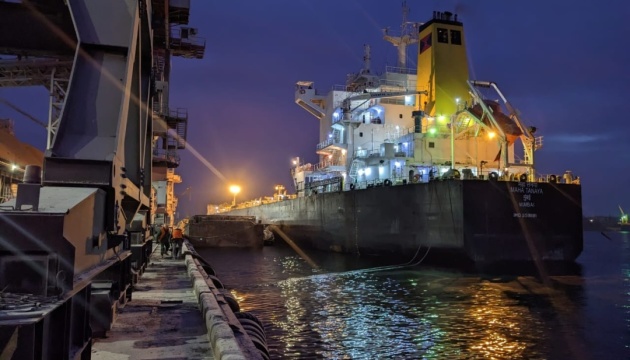 Ukraine has exported 1M tonnes of agricultural products via grain corridor this year
Ukraine has already exported 17.3 million tonnes of foodstuffs through the grain corridor, including 1 million tonnes of agricultural products exported in January.
"Grain initiative: the first million tonnes of Ukrainian agricultural products were sent in 2023 to the countries of Africa, Asia, and Europe," the press service of the Ministry of Infrastructure of Ukraine posted on Facebook.
It is noted that on Friday, January 13, 11 ships carrying 313,500 tonnes of agricultural products left the ports of Odesa region.
Three bulk carriers are heading to African countries. Bulk carrier LADY LITEL will deliver 31,000 tonnes of wheat to Libya, bulk carrier EAST WIND 1 – 25,000 tonnes to Tunisia, and bulk carrier LADY HATICE – 11,000 tonnes of foodstuffs to Morocco.
The port of Chornomorsk moored the bulk carrier ANTHEIA, which was chartered by the UN World Food Program for the delivery of Ukrainian wheat to Afghanistan.
As of January 13, 17 ships are processed in the ports of Odesa, on which 519,000 tonnes of Ukrainian agricultural products will be loaded.
Five ships are moving along the grain corridor for loading. In the Bosphorus, 104 ships are waiting for inspection by the Joint Coordination Center.
Since August 1, 644 ships have left Odesa region ports, carrying 17.3 million tonnes of Ukrainian foodstuffs.
As reported, in Istanbul on November 17, Ukraine, the United Nations, and Turkey agreed to extend the Initiative for the safe transportation of agricultural products across the Black Sea for another 120 days. It started working on July 22, and the first ship with Ukrainian foodstuffs within its framework left the port of Odesa on August 1.
ol