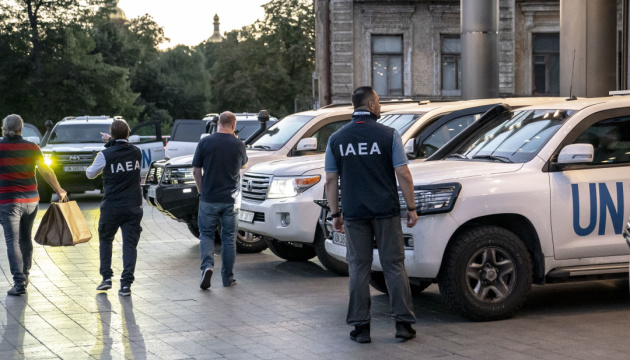 IAEA inspects two sites in Ukraine to refute Russia's 'dirty bomb' allegations
Inspectors from the International Atomic Energy Agency (IAEA) have started verification activities at two locations in Ukraine in order to refute Russia's allegations about 'dirty bomb' preparations.
The relevant statement was made by the International Atomic Energy Agency (IAEA), an Ukrinform correspondent reports.
"IAEA inspectors had begun – and would soon complete – verification activities at two locations in Ukraine, following a written request from the Ukraine government to send teams of inspectors there," the report states.
Ukraine's request was issued after the Russian Federation made allegations about activities related to the possible production of "dirty bombs" at the two locations, which are under IAEA safeguards and have been visited regularly by IAEA inspectors.
"The purpose of the safeguards visits is to detect any possible undeclared nuclear activities and materials related to the development of "dirty bombs". The IAEA inspected one of the two locations a month ago and no undeclared nuclear activities or materials were found there," the IAEA noted.
IAEA Director General Rafael Mariano Grossi will provide his initial conclusions about the latest verification activities at the two sites later this week.
According to the data available to Ukrinform, IAEA inspectors are visiting the Institute for Nuclear Research of the National Academy of Sciences of Ukraine in the city of Kyiv and Eastern Mining and Ore Dressing Plant (Skhid GZK) in the Dnipropetrovsk region.
Photo: AA
mk