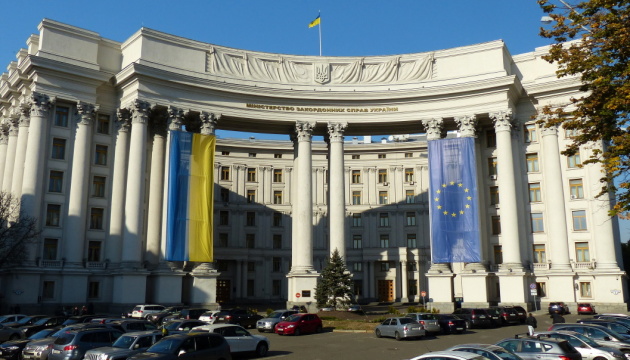 Restoring energy infrastructure: Twelve countries to supply equipment
The Ministry of Foreign Affairs pursues active work with international partners to restore Ukraine's energy infrastructure, damaged as a result of Russian missile terror. Agreements have already been reached with the governments and companies from 12 countries.
This was announced by Minister for Foreign Affairs Dmytro Kuleba, Ukrinform reports with reference to the Ministry's press service.
"Ukrainian diplomats are in constant contact with their partners, making every effort to ensure that Ukrainians have light, heating, and water in their homes. We are bringing in the necessary assistance and equipment to overcome the aftermath of Russia's terrorist attacks on Ukraine's critical infrastructure. We will not allow Russian terror to break us or our partners," the minister stressed.
He recalled that the president gave the corresponding mandate, and the Ministry of Internal Affairs, the Ministry of Energy and other authorities and state enterprises compiled and are updating the list of needs to be covered. The Ministry of Foreign Affairs updated the relevant requests within the framework of the European Civil Protection Mechanism and the NATO Crisis Response Center. In addition, diplomats process inquiries directly with energy equipment manufacturers in France, Germany, Belgium, Sweden, China, and other countries.
"We have already agreed on the supply of equipment from the governments and companies of 12 countries: Israel, Spain, Italy, Lithuania, Germany, North Macedonia, Poland, the Republic of Korea, Slovakia, Slovenia, Finland, and France. In total, we are talking about 954 units of energy equipment. The first batches are already in Ukraine, the rest are expected to be delivered in the near future. We continue to work on increasing the range of partners and the amount of support," the minister said.
According to Kuleba, among the equipment that Ukraine receives are generators of various types, automatic switches, heat guns, and others.
"We are grateful to every partner and every company that responded to our urgent request. Ukraine will always remember those who were with us in the difficult hour of trials," the head of the MFA emphasized.
As reported by Ukrinform, during the morning attack by Russia, 10 regions of Ukraine were affected, where 18 energy facilities were hit by missiles, most of which are energy infrastructure objects.