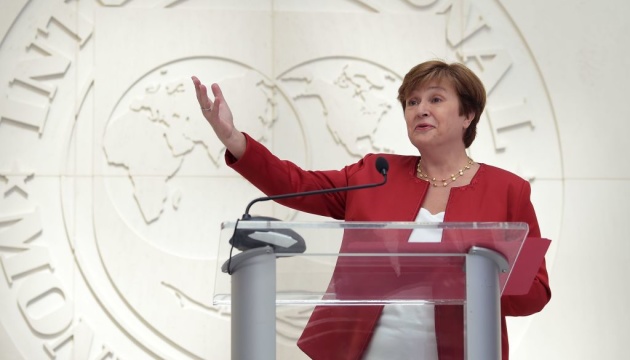 Ukraine could need up to $5B a month - IMF chief
Ukraine's external financing will stand at nearly $3 billion a month in 2023, which is a best-case scenario, but it could also rise up to $5 billion if Russian attacks further intensify.
That's according to IMF Managing Director Kristalina Georgieva, who spoke at an international expert conference in Berlin, held under the auspices of Germany's chairmanship in G7 and the European Commission.
The sum could reach $4 billion as Ukraine needs to further import gas and restore infrastructure but if destruction becomes even more "dramatic," Ukraine might require as much as $5 billion, Georgieva said.
She also praised the Ukrainian government's stable operation to manage the country in wartime.
Georgieva strongly endorsed Ukraine's calls for a mechanism to coordinate financial needs and support, a message echoed by Odile Renaud-Basso, president of the European Bank for Reconstruction and Development, and other speakers, according to Reuters, cited by U.S. News.
"We were part of the solution during the emergency phase. We are going to be a part of the solution during this recovery phase," the IMF leader said.
She said the international community had also stepped up with pledges of $35 billion to support the country in 2022, but it was critical to ensure that money not yet disbursed went out quickly.
"The country is doing a really good job in making every cent - every hryvnia, I should say - count," Georgieva said, although budget revenues remained severely constrained.
Werner Hoyer, president of the European Investment Bank, told the conference that the Bank had provided Ukraine with another $500 million in immediate assistance.
As Ukrinform reported earlier, Berlin is hosting on Tuesday an international expert conference on Ukraine recovery, which attracted the best specialists from around the world. These experts are expected to draw up a strategy for Ukraine's post-war recovery, which will be a base for reconstruction programs involving international assistance.