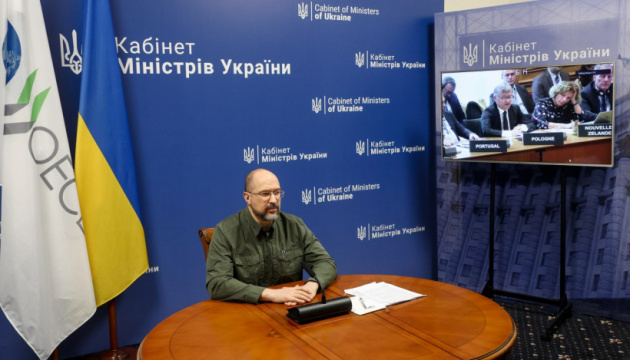 PM Shmyhal expects OECD to support Ukraine's accession application
Ukraine's ambitious goal is to gain full membership in the European Union and the Organization for Economic Cooperation and Development.
"We consider these two processes as complementary to each other, and we take into account how important the role of the OECD is for the EU as an analytical center and a center for developing the best solutions for public policy," Prime Minister of Ukraine Denys Shmyhal said at the opening of the OECD Council meeting on September 26, where Ukraine's application to join the Organization was being considered, the Government portal informs.
The Prime Minister noted that Russia had planned to terminate Ukraine's Euro-Atlantic choice as well as reforms on the way to transforming Ukraine into a successful European state.
"Our response to these actions is to launch and implement reforms twice as fast. The strategic framework for all transformations is based on the integration of Ukraine into the EU. We are actively moving towards integration into European markets. By the end of this year, more than 100 regulatory acts will be adopted, thereby making our country much closer to Europe," Shmyhal said.
The Prime Minister noted that before Russia's full-scale invasion, the Government of Ukraine and the OECD representatives had reviewed the joint action plan for deepening cooperation for the period until 2025. Now Ukraine and the OECD have the opportunity to bring cooperation to a fundamentally new level.
Shmyhal expressed hope that the OECD would support Ukraine's application and the parties would agree on a roadmap for Ukraine's membership in the Organization. This process shall open wider access for Ukraine to participate in the work of OECD bodies. By implementing the Organization's standards and participating in its reviews, investors, researchers, consulting companies, and most importantly, those who study the possibilities of entering the Ukrainian market will understand Ukraine better.
The Head of the Government of Ukraine thanked the Organization for its great support and expressed the hope that OECD Secretary-General Mathias Cormann would soon personally arrive to open an office in Ukraine.
ol