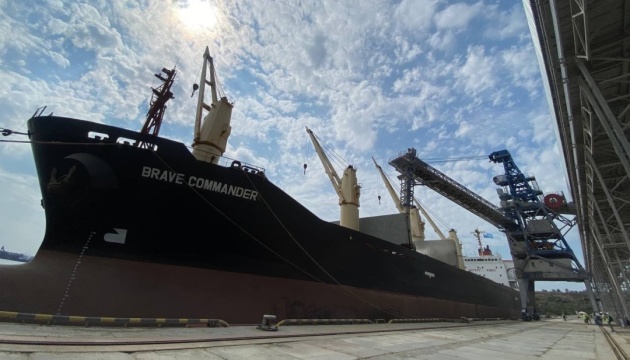 Another vessel loaded with grain at Pivdenny port, to leave for Ethiopia on Aug 15
More than 23,000 tonnes of wheat have been loaded onto the Brave Commander bulk carrier at the Pivdenny port.
Ukraine's Minister of Infrastructure Oleksandr Kubrakov said this in a Facebook post, Ukrinform reports.
"Today we see how the initiative on the safe transportation of grain and agricultural products, signed in Istanbul, works. On Friday, the Brave Commander, a ship chartered by the UN World Food Program (WFP), arrived at the port of Pivdenny for loading. Now we can see the ship finally preparing for its departure, carrying more than 23,000 tonnes of wheat to the people of Ethiopia," the minister said.
According to him, this country is suffering from a record drought and armed conflict for the second year in a row, and Ukrainian grain is, without exaggeration, a matter of life and death for them.
"We are already planning to send the ship to Ethiopia tomorrow," Kubrakov said.
On July 22 in Istanbul, at the suggestion of the United Nations, Ukraine, Turkey and UN Secretary General Antonio Guterres signed the Initiative on the Safe Transportation of Grain and Foodstuffs from the ports of Odesa, Chornomorsk and Pivdenny.
Ships carrying grain for export from Ukraine via the Black Sea are protected by a special buffer zone of 10 nautical miles (about 18.5 km).