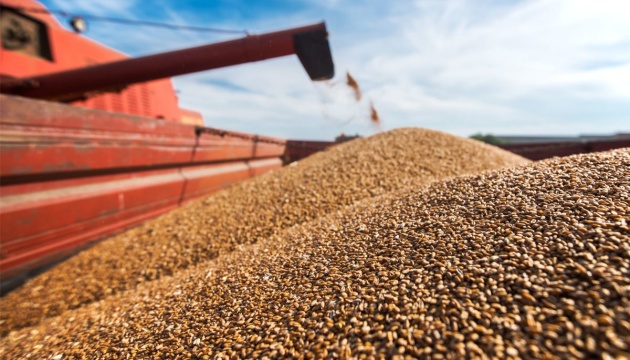 Ukraine expects to harvest up to 67M tonnes of grain and oilseeds this year
Ukrainian farmers have already harvested 12 million tonnes of grain. Meanwhile, the projected gross yield of grain and oilseed crops increased from 60 million tonnes to 65-67 million tonnes.
The relevant statement was made during a conference call with the heads of Ukrainian regional authorities, chaired by Ukrainian Prime Minister Denys Shmyhal, an Ukrinform correspondent reports, referring to the Government portal.
"Despite all the troubles, the harvesting campaign continues. According to the data from the Ukrainian Agrarian Policy and Food Ministry, during the harvest period, grain crops were harvested from 3.5 million hectares, and a total of 12 million tonnes of the new-harvest grain was gathered," Shmyhal said.
In his words, thanks to the coordinated work of the state under the leadership of the President of Ukraine, Odesa sea ports were actually unblocked. The first ship loaded with Ukrainian-produced grain has already been inspected in Istanbul.
"In June, we exported 3.2 million tonnes out of 5 tonnes that were required. Exports are gradually increasing by rail, road, and through the Danube ports. Sea ports will significantly expand these capacities, and farmers will get new opportunities to sell their products. The state is making every effort for this purpose," Shmyhal stressed.
Meanwhile, the Ukrainian government is working to improve the conditions of the government program 'Affordable Loans at 5-7-9%' for agricultural producers. According to Shmyhal, more than 52% of this program is focused on agricultural lending.
In addition, the Ukrainian government introduced grant assistance. As soon as this week, the first applicants will receive grants to develop horticulture, greenhouses, processing and micro businesses. More than 5,000 requests have already been submitted and processed.
mk