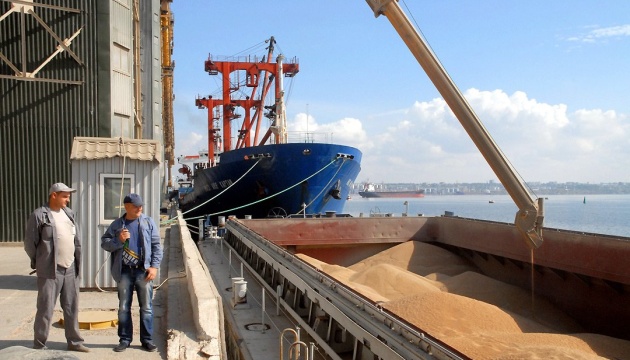 Fifteen vessels with Ukrainian grain ready to depart, two more next in line – Vysotskyi
Currently, fifteen vessels loaded with grain are technically ready to depart from Ukrainian ports, and two more vessels are being finalized.
The relevant statement was made by Ukrainian Agrarian Policy and Food First Deputy Minister Taras Vysotskyi during a nationwide telethon, an Ukrinform correspondent reports, referring to the ministry's press service.
On August 1, 2022, the vessel Razoni, flying the flag of Sierra Leone, left Odesa Port with 26,000 tonnes of Ukrainian-produced corn. It is the first ship to have departed from the Ukrainian port in the Black Sea since the Russian invasion started.
"Corn is exported to North Africa. The monitoring of our quadrilateral Joint Coordination Center, established in Istanbul, refers mainly to passage through the Bosphorus Strait, and then it is a free trajectory in accordance with the traditional routes of relevant merchant ships," Vysotskyi told.
The Joint Coordination Center increased surveillance over ships sailing from Ukraine, as it undertook to guarantee all security matters.
"Today about 15 vessels have been confirmed to be technically ready, and two more are being finalized. Then, there will be two-way traffic, including the approach of vessels for loading," the ministry noted.
Such vessels are primarily intended to transport grain crops (corn, wheat, barley), and later oilseeds and processed products. Each vessel can carry from 10,000 to 60,000 tonnes.
According to Vysotskyi, cargo ships are expected to sail during daylight hours only. For safety reasons, they are also accompanied by a mine countermeasures vessel. There are no restrictions on the number of ships allowed to sail. But, there are requests submitted, and a coordinated schedule that must be followed.
mk