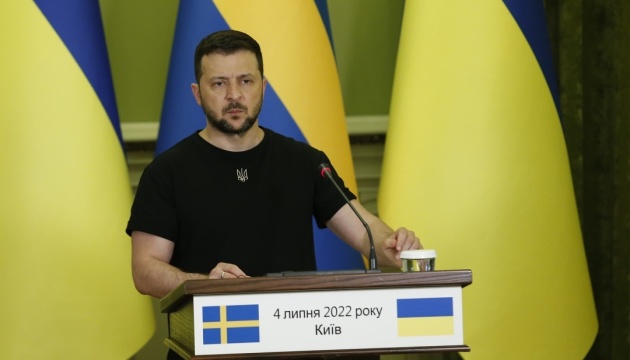 President: 22 million tonnes of grain currently blocked in Ukraine
Ukraine negotiates the creation of grain export opportunities with the UN and Turkey. Currently, 22 million tonnes of grain are blocked at Ukrainian ports.
President Volodymyr Zelenskyy said this during a briefing with Prime Minister of Sweden Magdalena Andersson in Kyiv, an Ukrinform correspondent reports.
The President noted that the implementation of the export process would be difficult but definitely possible. He emphasized Ukraine's interest in it as an exporter.
"We want our farmers to continue to work for the next year and for the next harvest. To do this, we need to export all this – barley, wheat, corn, etc. Twenty-two million tonnes are currently blocked. We expect about 60 million tonnes in autumn. There will be a very difficult situation," the President added.
As Zelensky informed, the efforts are made at the diplomatic level to ensure that the countries do not buy grain from the Russian Federation, which it had stolen at blocked Ukrainian ports.
In addition, according to the President of Ukraine, negotiations with Turkey and the United Nations are ongoing. He clarified that the UN takes a stand of a leader, not a moderator.
"It is a very important moment that someone guarantees the safety of the ships of certain states, except Russia, which we do not trust, those ships that will come to us to load products. This is exactly what we are talking about in Turkey," Zelensky said.
He noted that Ukraine was not wasting time, but was working on various ways of exporting grain – both by rail and river.
The President stated that exports was ramping up every day, despite difficult conditions.
On February 24, Russia launched a full-scale invasion of Ukraine. As a result of hostilities, more than 20 million tonnes of Ukrainian grain were blocked at the Ukrainian ports, a significant part of which was intended for the UN World Food Programme.
The Ministry of Agrarian Policy and Food of Ukraine makes efforts to unblock the grain exports. More than 20 companies plan or have started building transshipment facilities in areas where new logistics routes run.
ol