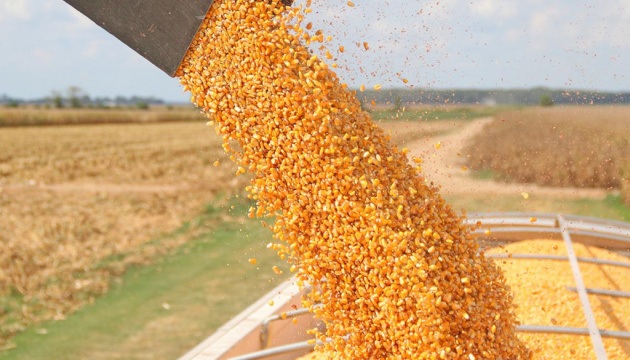 Stopping war only way to bring Ukrainian grain to foreign markets - presidential advisor
The only way to move Ukrainian grain to supply international markets is to stop Russian aggression.
That's according to Ukrainian President's economic advisor Oleg Ustenko, the President's Office reports citing the official's comment to Newsweek.
Ukraine still has enough stored grain to meet domestic and international demand until at least the end of 2022, perhaps into 2023, Oleg Ustenko -- an economic adviser to President Volodymyr Zelensky -- told Newsweek.
"My view is that the only way to move this grain to supply international markets is to stop the war, or at least to stop all military actions in the Black Sea," he explained. Russia, he said, will not hesitate to attack any ships in the Black Sea until then. "They're going to send their missiles at any ship moving in the region."
"If the fighting stopped, we could do that almost immediately because we have access to the main ports from where we were doing that," he said. "Our ships are ready, international ships might be coming very easily and very quickly."
"They played this card from the very beginning," Ustenko said of the Russians. "They knew that one of the reasons for them to close our ports was to produce this problem worldwide. They wanted to weaponize food as well."
President Volodymyr Zelensky earlier said during an online meeting at the Ukrainian House in Davos that the world's business and political elite should make efforts to get 22 million tonnes of grain stranded in Ukraine out of the country, thus preventing famine in a number of countries.
Speaking at the World Economic Forum, European Commission President Ursula von der Leyen said that the Russian Federation, which is blocking Ukrainian grain in Ukrainian ports and continuing hostilities on Ukraine's fields, is blackmailing the international community by threatening famine in entire regions. She recalled that today Russian artillery is deliberately shelling grain storages all over Ukraine. Russian warships are blocking Ukrainian carrying with grain and sunflower in the Black Sea. The consequences of these shameful acts are obvious to all, she noted, as global wheat prices have skyrocketed, affecting the most vulnerable nations.