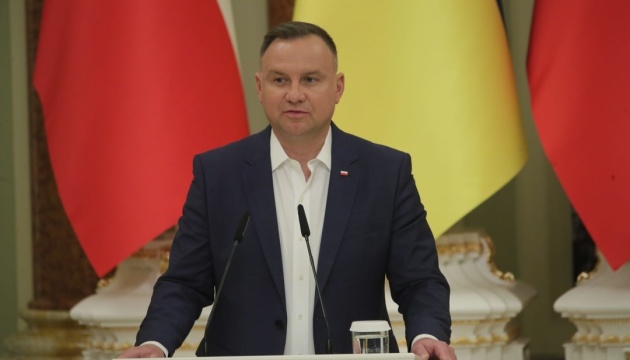 Duda: Unblocking Odesa port very important for global food security
President of Poland Andrzej Duda considers that it is very important for global food security to unblock the port in Odesa so that Ukraine will be able to export food to countries that need it.
Duda said this at a joint press conference with President of Ukraine Volodymyr Zelensky in Kyiv, an Ukrinform correspondent reports.
As Duda stressed, not only Ukraine needs the support of the world, but the world also needs Ukraine, which is a powerful food producer. He noted that there are countries that depend on Ukraine in this sense, so the world should help them get, for example, Ukrainian grain and sunflower oil traditionally exported there.
"It is a very important question how to unlock the port in Odesa so that Ukraine will be able to export its food, and how to export it, for example, to Egypt or other African countries," Duda said.
He said that he had discussed these issues in detail with President Zelensky and they would soon be raised at an intergovernmental Polish-Ukrainian conference.
As reported, on May 12, EU Commissioner for Transport Adina Vălean presented in Brussels "Solidarity Lanes" – an action plan to help Ukrainian food exports. Under this project, 20 million tonnes of grain will be shipped from Ukraine using EU infrastructure in less than three months.
Earlier, the Ministry of Foreign Affairs of Ukraine warned consumer countries that batches of grain sold by Russia may partially or completely contain grain stolen by Russian invaders in Ukraine. Russia's theft of Ukrainian grain is confirmed by numerous testimonies of Ukrainian farmers and documentary evidence.
ol