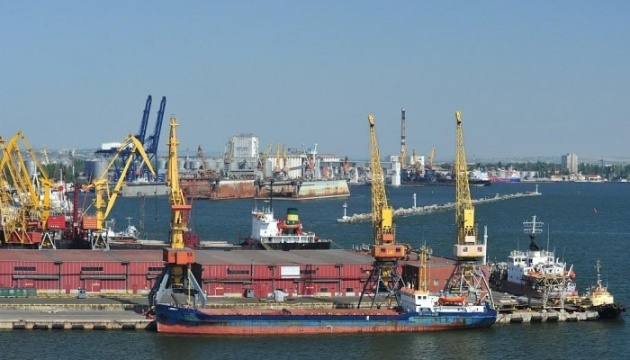 Ukraine considers grain exports via Lithuania's Klaipėda Port
Ukrainian Agrarian Policy and Food Minister Mykola Solskyi, Lithuanian Agriculture Minister Kęstutis Navickas and EU Commissioner for Agriculture Janusz Wojciechowski have discussed the possibility of exporting Ukrainian-produced grain via Lithuania's Klaipėda Port.
The relevant statement was made by the Ukrainian Agrarian Policy and Food Ministry, an Ukrinform correspondent reports.
Prior to the war, Ukraine exported 5 million tonnes of grain per month. As Ukrainian sea ports are now blocked by Russia, just 200,000 tonnes of Ukrainian-produced grain was transported by rail, road and the Dniester in March 2022.
Today, Ukraine has 20 million tonnes of grain harvested last year, which is not needed in the domestic market and was intended for export purposes.
"Now we are considering the possibility of exporting Ukrainian-produced grain via Lithuanian and Latvian ports. The potential of the port is of no doubt. Railroad tracks may cause concern. In Poland, the gauge is narrower than in Ukraine, Lithuania and Latvia," Navickas told.
According to Wojciechowski, disrupting Ukraine's export route to the Middle East and North Africa is a serious problem. Also, there are fears that interrupted wheat supplies may cause some tension and issues in the aforementioned regions.
"But, it is very important to support Ukraine, providing alternative export corridors, for example via Poland, ports of the Baltic Sea, Lithuania, Klaipėda Port – it is vital to continue exports," Wojciechowski stressed.
Meanwhile, Solskyi thanked Navickas, who was the first agriculture minister to visit Ukraine amid the war. Solskyi also expressed gratitude to the Lithuanian government and all Lithuanians who support Ukraine.
mk