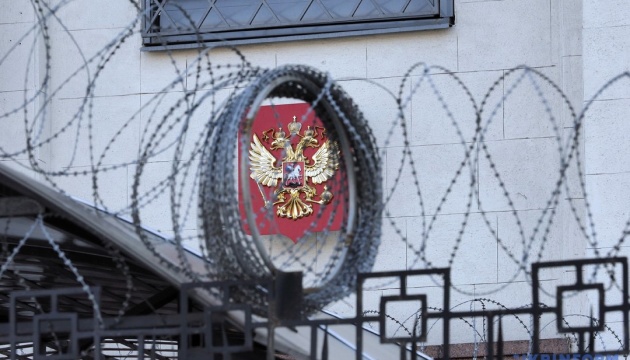 Zelensky: If there were enough sanctions, invasion would have stopped
Economic sanctions against Russia are still insufficient to stop the invasion of Ukraine. If this issue is not resolved now, the West will have to save other countries from the aggressor.
"If there were enough sanctions, the invasion would have stopped. Russian oil and petroleum products are still being bought. Western corporations still remain in the Russian market under the guise of various excuses. Yes, there are moral companies that have left, and we are grateful to them for that. But there are business giants who are still choosing bloody money. Everyone must be moral and strengthen sanctions against Russia for this unprovoked and brutal invasion, which is reminiscent of the worst times of World War II," President of Ukraine Volodymyr Zelensky told German newspaper Die Zeit in an interview, the text of which is available to Ukrinform.
The Head of State stressed that sanctions related to oil, gas and disconnection from SWIFT were the most sensitive. If we do not take these steps now, the West will have to save Moldova, the Baltic states, and Poland, Zelensky believes.
"If we talk about sanctions, they primarily relate to oil, petroleum products, and gas. World ports must be closed to Russian ships. Cargo companies must stop sending and receiving goods from and to Russia. There should be no exceptions for Russian banks disconnected from SWIFT. These are specific things that can be done. If you don't do them now, then you will have to do even more to save the Baltic states, Poland, Moldova, Georgia and all other countries – Russia's neighbors – from the Russian invasion," the President said.
It is also very important, he stressed, that Western countries finally decide on how to create a humanitarian no-fly zone over Ukraine.
Asked whether Putin could surrender under economic sanctions, Zelensky said the West had not yet created sufficient economic pressure to talk about it.
On February 24, Russian president Vladimir Putin announced the start of the invasion of Ukraine. Russian troops are shelling and destroying key infrastructure, missiles are hitting houses.
Martial law was imposed in Ukraine and general mobilization was announced.
The European Union and a number of other countries, including the United States, Canada, and Australia, have imposed sanctions on Russia over the war in Ukraine. Dozens of companies have announced the termination of work in Russia and withdrawal from projects with Russian partners.
ol