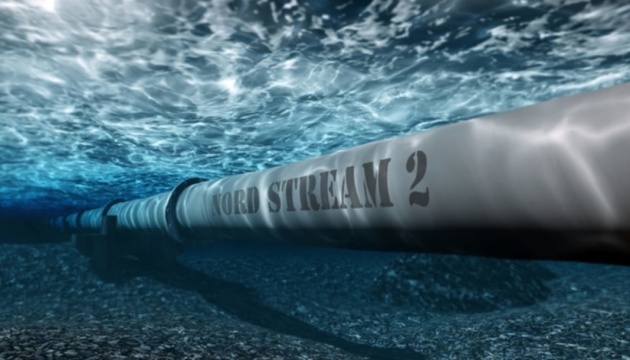 Nord Stream 2 is part of Putin's plan in war against Ukraine - Vitrenko
The construction and launch of the Nord Stream 2 gas pipeline is part of Russian President Vladimir Putin's plan in his war against Ukraine.
Yuriy Vitrenko, CEO of Ukraine's state energy company Naftogaz, said this on Facebook, Ukrinform reports.
"The construction and launch of Nord Stream 2 is nothing but part of Putin's plan to wage war against Ukraine. By doing so, he wanted to give up transit through our country so that any further invasion would not affect Russian gas sales to Europe," Vitrenko wrote.
He stressed that Putin had used gas as a weapon before and continued to do so even more after a joint statement by the United States and Germany in July 2021. According to Vitrenko, such behavior requires a reaction from the West, punishment.
"We are ready for any scenario and continue to do everything in our power to ensure that the situation in Ukraine is stable, including in the energy sector as one of the key areas of national security," Vitrenko said.
He recalled that Ukraine had already won a victory over Russia in gas issues, winning billions in trial with Gazprom.
"I have personally been involved in this trial and thus know that the only recipe for success in negotiations with Russia is the ability to oppose it, the ability to say a firm 'no,' to have other decision options. Therefore, the international community should not be afraid to oppose Putin and show their strength," Vitrenko said.
Nord Stream 2 AG earlier founded a German subsidiary, Gas for Europe GmbH.
Nord Stream AG on September 6, 2021 submitted an application to Germany's Federal Network Agency for the certification of the Nord Stream 2 gas pipeline.
However, in November, the regulator suspended the certification procedure due to non-compliance with European gas legislation. The operating company Nord Stream AG, headquartered in Switzerland, was to set up a company in Germany to share functions.
The regulator noted that the certification process will remain suspended until the transfer of the main assets and human resources to the subsidiary has been completed and the Federal Network Agency will be in a position to check the unit's documents for completeness.
The Nord Stream 2 pipeline was built in early September. The pipeline is designed to double the amount of gas flowing from Russia to Germany, bypassing Ukraine, on the bed of the Baltic Sea. The only shareholder in the project is Gazprom.
op