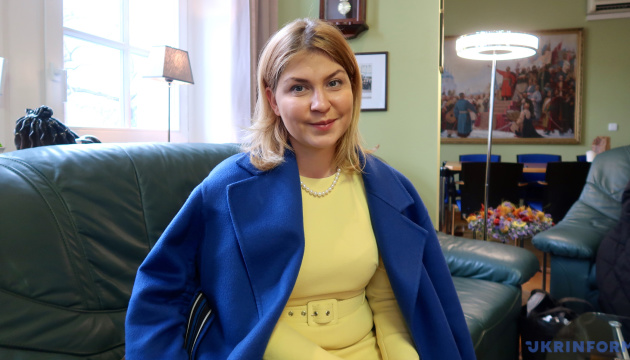 There will be no agreement on "industrial visa-free" regime with EU in 2022 - Vice PM
Deputy Prime Minister for European and Euro-Atlantic Integration of Ukraine Olga Stefanishyna says the Agreement on Conformity Assessment and Acceptance of Industrial Products (ACAA) with the European Union will not be concluded in 2022.
She addressed the issue in an interview with Interfax-Ukraine, Ukrinform reports.
"No. I propose to return to this issue closer to the summer of 2022 when I will be able to name specific dates," Stefanishyna said when asked whether Ukraine will conclude an agreement on the "industrial visa-free regime" at the next Ukraine-EU summit in 2022.
According to the senior official, the work of missions assessing Ukraine's readiness to conclude the agreement will be completed this summer, and once this work has been completed, the government will be able to initiate formal talks.
"But before this assessment is completed and recommendations are made, we will not be able to initiate a formal negotiation process. The KPI, which I would set for 2022, is the launch of formal negotiations. They could be very quick if we're able to build a political consensus in the European Commission as regards this agreement," said the deputy prime minister.
Asked whether this allows the possibility of concluding an agreement in 2022, Stefanishyna said it doesn't.
The ACAA agreement is recognition of the equivalence of the system of technical regulation and conformity assessment with the European one. The conclusion of the ACAA, or so-called industrial visa-free regime, would allow industrial producers to obtain the necessary certificates in Ukraine instead of contacting an official representative – an EU resident, who has the right to obtain such a document. The possibility of striking such a deal is laid down in the Ukraine-EU Association Agreement.
Initially, the ACAA will be concluded for three sectors of industrial products: low-voltage electrical equipment, electromagnetic compatibility of equipment, and machinery. Following the successful recognition of the first of these sectors by the EU, this practice can be extended to other industries.
As reported earlier, in October, President Volodymyr Zelensky said Ukraine expected to conclude the ACAA at the next Ukraine-EU summit in 2022.
im