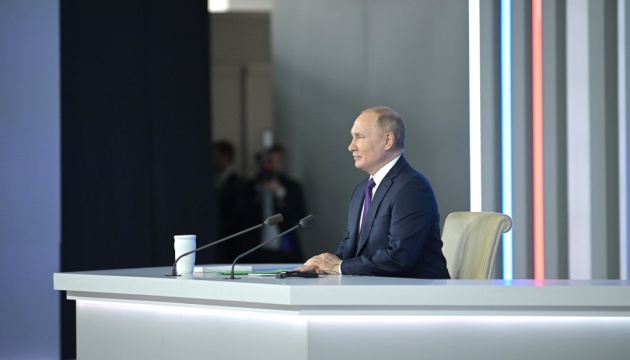 Putin claims gas prices in Europe rising due to reverse flow to Ukraine
Russian President Vladimir Putin claims that gas prices on the European spot market are rising including due to the reverse supply to Ukraine – from Germany through Poland.
The Russian leader spoke of this at his big annual press conference, broadcast on YouTube, an Ukrinform correspondent reports.
"After all, they (Western powers - ed.) pump gas in reverse mode ... Gas can't flow in both directions in the same pipe at the same time. They a) didn't order (gas - ed.), b) turned on the reverse flow," Putin said.
In addition, as per the Russian president, there is a pipe that connects the Polish gas transmission system with the Ukrainian one. "The volume is about 3 million cubic meters per day. That's how much is pumped from Germany to Poland. I have every reason to believe that this gas is eventually shipped to Ukraine," said Putin.
In his opinion, this is how Ukraine gets economic support from Europe. And thus, according to Putin, additional conditions are allegedly created for the rise of prices on the spot market.
At the same time, he has categorically denied Gazprom's responsibility for price hikes.
As reported earlier, gas prices at the auction on December 21 crossed the mark of $2,000 per 1,000 cubic meters, which is an absolute record high in the history of trading.
Sergiy Makogon, CEO of Gas TSO of Ukraine, said earlier that the increase in gas prices was the result of Russia's reluctance to increase shipments to the EU until the Nord Stream 2 gas pipeline is certified.
In an interview with CNBC, Foreign Minister Dmytro Kuleba said that Putin had been blackmailing the European Union since the onset of the latest engineered energy crisis, suggesting that it was Nord Stream 2 certification that would bring gas prices back to their previous levels.
im