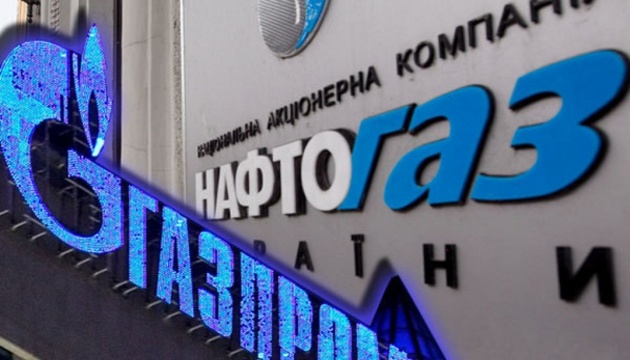 Naftogaz complains to the European Commission about Gazprom's anti-competitive actions
National Joint-Stock Company Naftogaz of Ukraine has appealed to the European Commission over the abuse of a dominant position in the European gas market by Russia's Gazprom.
That's according to the company's press service, Ukrinform reports.
The company also appealed to the Directorate General for Competition to take immediate action to fix the situation.
"Gazprom has sharply reduced its own gas sales on the European spot market despite growing demand and limits the ability of other companies to supply additional gas to Europe and compete with Gazprom. <...> Gazprom's actions are anti-competitive and have had a significant negative impact on all European consumers. Naftogaz, as one of the largest gas buyers in Europe, is also suffering from these abuses. Therefore, we ask the European Commission to respond appropriately to the violations," said Yuriy Vitrenko, Naftogaz Chairman of the Board.
In its complaint, Naftogaz draws the European Commission's attention to a number of specific abuses. In particular, this concerns Gazprom's deliberate failure to properly fill gas storage facilities in the EU, owned by Gazprom, or in which the company has significant volumes reserved. In addition, the Russian company abruptly and without good reason stopped selling gas through its electronic platform.
With sufficient gas volumes and the ability to use the available transit capacity of Ukraine's GTS, Gazprom has refused to supply large volumes to the EU. Also, without good reason, Gazprom did not add a gas transmission point on its electronic platform on the Russian-Ukrainian border.
In addition, Gazprom continues to block exports of gas produced in Russia by private companies, as well as block gas transit from Central Asia to Europe.
According to Naftogaz, the aim of such actions is, in particular, to create an artificial gas shortage and put pressure on the European Union to launch the Nord Stream 2 gas pipeline as soon as possible without it being put in line with European legislation.
Naftogaz emphasizes that Gazprom's actions are contrary to European antitrust law and have already led to prices rising to a record high of $1,921 per 1,000 cubic meters (as of December 21, 2021).
Naftogaz therefore asks the European Commission to take a set of immediate precautionary measures. In particular, Naftogaz asks the EC to oblige Gazprom to sell significant volumes of gas via the electronic platform for supply on the Ukrainian-Russian border or at least on the border between Ukraine and the EU. At the same time, Gazprom's customers will be able to buy gas, in particular, on the Russian-Ukrainian border for further independent reservation of GTS capacities and transmission to Europe and/or injection to Ukrainian underground storage facilities.
In addition, Gazprom must provide technical capabilities of its gas transmission system for gas exports by private Russian producers, as well as for gas transit from Central Asia.
As reported, NJSC Naftogaz of Ukraine this year provided 77% of all gas imports to Ukraine.
im