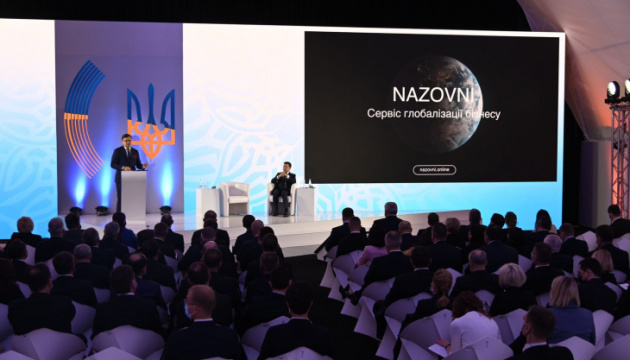 Kuleba presents new online platform NAZOVNI to support Ukrainian exports
The Ministry of Foreign Affairs presented a new online platform NAZOVNI for diplomats to consult business and support Ukrainian exporters.
"What is NAZOVNI? It is a customer relationship management system clear to business. We try to speak the language of business to offer them convenient formats. With the introduction of NAZOVNI system, the Ministry of Foreign Affairs fully digitalizes the entire policy – economic diplomacy. This is the first policy that will be digitalized," Minister of Foreign Affairs of Ukraine Dmytro Kuleba said at the conference of heads of Ukraine's foreign diplomatic missions "Diplomacy 30. Strategy of Strong State", an Ukrinform correspondent reports.
According to Kuleba, NAZOVNI is an open online platform that will offer advice and personal manager to every business, i.e., an embassy employee in a corresponding country. The Ministry of Foreign Affairs will accompany the Ukrainian exporter at every stage from submission of documents to conclusion of contracts for the supply of products.
A business representative will be able to visit the web resource by following the link and filling out the questionnaire. The diplomats will determine the degree of readiness for export, the potential market, or the capacity of the desired market, choose the model of work, and then prepare an action plan and guide an exporter at all stages.
"From now on, this is the main tool for promoting Ukrainian exports abroad through Ukrainian embassies," Kuleba said.
The system will automatically send information to the relevant embassies; both exporters and diplomats will have their personal cabinets.
Kuleba noted that the Ministry would see all the information, analyze it, and draw conclusions. He expressed confidence that the system, created on behalf of President Volodymyr Zelensky, would make Ukrainian exports truly massive.
As reported, the Foreign Ministry has helped more than 200 Ukrainian companies to launch exports or start working abroad in 2021.
ol