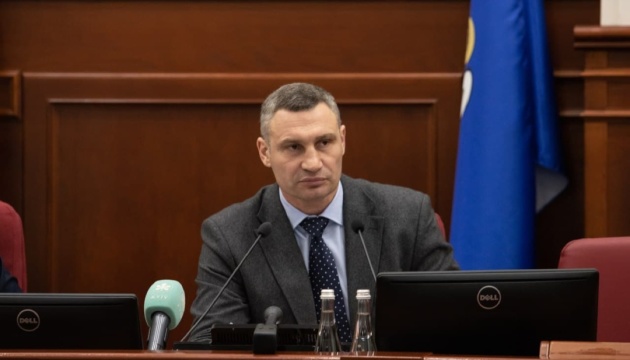 Klitschko: Draft budget 2022 sees over UAH 69B revenue target
Kyiv's draft budget for 2022 lays down a revenue target of over UAH 69 billion (nearly $2.6 billion).
That's according to Kyiv Mayor Vitaliy Klitschko, who spoke at the opening today's meeting of the Kyiv City Council, Ukrinform reports.
"Today we have an important meeting. We have to consider and approve the capital's budget for next year and the draft Program of Economic and Social Development for 2021-2023. In Kyiv's draft budget for next year we plan to receive more than UAH 69 billion, including through subventions and subsidies from the state budget worth almost UAH 9 billion ($333 million). Revenue target of the municipal budget's general fund (excluding transfers from the State Budget) has been set at almost UAH 56 billion ($2.07 billion), which is more than UAH 2.3 billion ($85 million) more than had been planned for this year.
The income of the special fund is over UAH 4 billion ($147 million). The main expenditures of the municipal budget for 2022, as in previous years, are those on the social and cultural spheres. Their total share will be over 50% of the general fund," Klitschko explained.
The draft Program of Economic and Social Development for 2021-2023 envisages over UAH 13.1 billion ($484.4 million) for covering capital expenditures next year alone. Of these, more than UAH 5.8 billion ($214.5 million) was capital investments and almost UAH 7.3 billion ($270 million) – capital repairs.
The main tracks of social and economic development of Ukraine's capital, as per the Program, include transport and transport infrastructure, as well as road management, (almost UAH 7 billion, or $258.9 million, in funding); utility services (almost UAH 3.4 billion, or $125 million); education (more than UAH 1.6 billion, or $59 million); health care (nearly UAH 482 million, or $17.8 million), and social security (UAH 199.5 million, or $7.4 million).
"We must adopt the capital's main financial document – a balanced and socially oriented one – for Kyiv to develop and implement changes, support areas that need special attention. And for it to became an attractive European capital," Vitaliy Klitschko stressed.
im