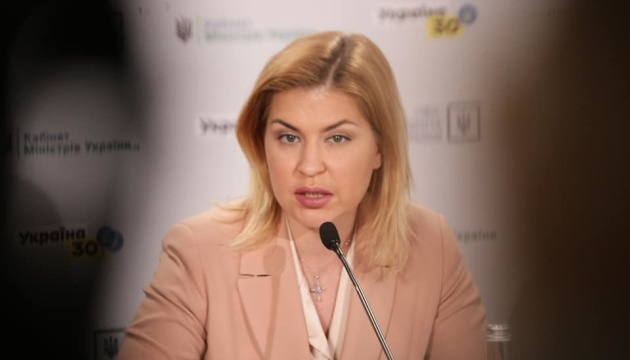 Ukraine suggests expanding EBRD support for green transformation projects
Deputy Prime Minister for European and Euro-Atlantic Integration of Ukraine Olha Stefanishyna discussed the expansion of EBRD's support for green transformation projects with a delegation of the European Bank for Reconstruction and Development.
As the Government portal informs, this was discussed during Stefanishyna's meeting with EBRD Vice President Alain Pilloux and newly appointed EBRD Vice President for Policy and Partnerships Mark Bowman.
The parties discussed the implementation of current projects of cooperation with the EBRD, as well as prospects for further cooperation in the context of supporting Ukraine's implementation of the European Green Deal and the implementation of commitments to reduce carbon emissions.
The Deputy Prime Minister noted that combating climate change requires more intensive international coordination and support, as well as strengthening cooperation between government, business, and international financial organizations.
"We are grateful for the EBRD's consistent support and already have successful examples of cooperation. The EBRD's support is extremely important for the implementation of qualitative changes in Ukraine," Stefanishyna said.
According to her, "now the whole world is on the verge of global change to save the planet for future generations. The recent climate debate at the UN Conference in Glasgow raised the issue of green policy to an even higher level. For Ukraine, this means about EUR 10 billion for green transformation annually over the next decade. It is important to work with the UN Green Climate Fund to gain greater access to financial resources for GHG reduction projects. We count on EBRD's active support in this matter."
In particular, she stressed that Ukraine suggests considering the possibility of wider EBRD's support in the implementation of energy efficiency infrastructure projects and co-financing of decarbonization in the areas of hydrogen economy and renewable energy.
"Given the success of such an instrument as the Eastern Europe Energy Efficiency and Environment Partnership Fund (E5P), we are ready to initiate negotiations to continue the work of the fund for investment in the private sector, which is also aimed at decarbonization. The EBRD can play a key role in this," Stefanishyna added.
ol