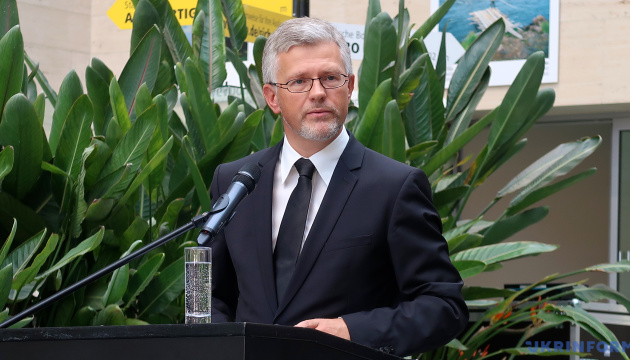 Ukrainian ambassador calls Nord Stream 2 'a stab in Ukraine's back'
Ukraine is shocked by Germany's latest steps in the Nord Stream 2 gas pipeline issue and is not going to put up with the fact that the pipeline will still be put into operation.
Ukrainian Ambassador to Germany Andrij Melnyk said in an interview with German news site RND.
The ambassador denied that Kyiv had accepted the fact that Russian natural gas would be supplied to Europe via this pipeline, adding that this issue was still far from resolved, both politically and legally.
The diplomat said that Ukraine was shocked that on the last working day of the previous federal government, the German Federal Ministry for Economic Affairs and Energy expressed its official position on the absence of any security threats in the context of the operation of Nord Stream 2.
The certification process may last until early January 2022, but the current government apparently wanted to prevent a situation in which the new government, which would apparently include the Social Democrats, Liberals and Greens, could set new obstacles or even freeze the project.
"This approach really shocks us. Nord Stream 2 itself is nothing else but a stab in Ukraine's back. It will lead to a huge loss of confidence in Germany for decades to come," Melnyk said.
He also noted that Berlin is consulting with other countries on the project, but not with Ukraine. "This is not a sign of good style at all, as enormous damage is caused to our interests," the diplomat added. He noted that Germany also violates its obligations under the Association Agreement between Ukraine and the EU.
Melnyk recalled that Naftogaz had demanded that the Federal Network Agency immediately report on the certification process so as to prove one thing: this gas pipeline is extremely dangerous, it contradicts EU law and, therefore, should never be put into operation.
The launch of the gas pipeline would have catastrophic consequences for the Ukrainian economy, the diplomat said.
Melnyk also recalled that Germany undertook to negotiate with Moscow on gas transit through Ukraine for at least another ten years after 2024. Whether it is able to achieve this goal without any delays in 2022 will be another litmus test of trust in Berlin, the ambassador said.
Melnyk called Nord Stream 2 perhaps the biggest geopolitical mistake made by Germany's outgoing government. He believes that the future coalition must correct this mistake in order to somehow restore the lost trust in Germany.
op