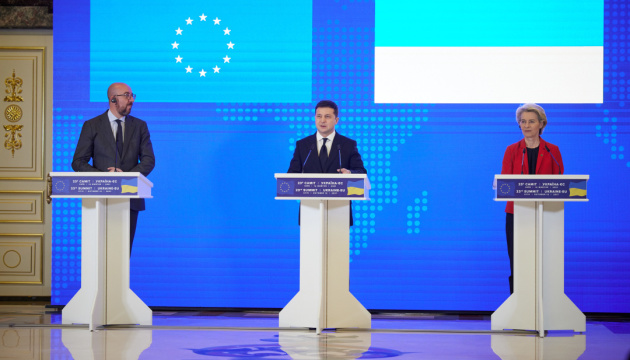 EU supports gas transit through Ukraine after 2024
The European Union has reiterated its support to continue gas transit via Ukraine after 2024.
This is said in a joint statement issued following the 23rd EU-Ukraine summit, Ukrinform reports.
"We reaffirmed Ukraine's role as a strategic transit country for gas and reiterated our support to continue gas transit via Ukraine beyond 2024," the document says.
At the same time, the EU noted the importance of pursuing the modernization of the Ukrainian national gas transmission system and further cooperation on strengthening European energy security.
"In the context of the existing and future gas transmission systems on the territory of the EU and Ukraine, we reiterated our mutual commitment to full implementation of the applicable EU legislation and the Association Agreement obligations. We also agreed to make best use of each other's existing energy networks and capacities, and to consult and co-ordinate, as appropriate, on infrastructure developments, which may affect interests of both Parties," the document says.
The EU and Ukraine stressed the importance of working together against any potential efforts by third parties to use energy as a weapon, in particular as regards the effects on the sustainability of gas transit through Ukraine.
"We underline the importance of the EU-Ukraine high level Energy Partnership to discuss strategic aspects of energy cooperation, and which will provide a platform for strengthening energy security and green transition in Ukraine and the EU," the document says.
As reported, the 23rd Ukraine-EU summit took place in Kyiv on Tuesday. Following the summit, a number of agreements were signed, including the Common Aviation Area Agreement.
iy