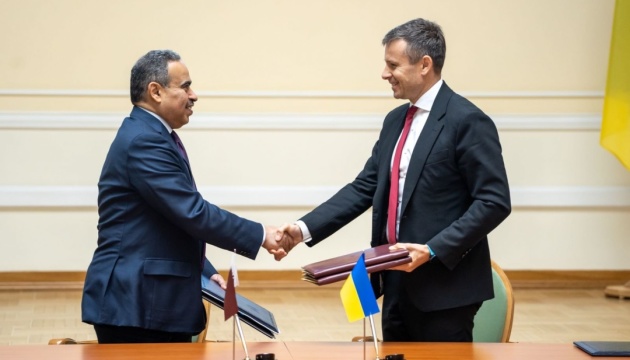 Ukraine, Qatar agree to enhance economic cooperation
Ukraine and Qatar have agreed on attracting investment, developing entrepreneurship and cooperating in the fields of tourism, agriculture, infrastructure, energy, healthcare and the financial sector.
The press service of the Ukrainian Ministry of Finance informed that following the second meeting of the Joint Commission on Economic, Trade and Technical Cooperation between the Government of Ukraine and the Government of the State of Qatar on September 2, Ukrinform reports.
Minister of Finance Serhiy Marchenko noted that mutually beneficial cooperation with the State of Qatar is one of the Ukrainian foreign policy's priorities.
"In April this year, President of Ukraine Volodymyr Zelensky paid a working visit to the State of Qatar, which gave the impetus for the further development of strategic bilateral relations," Marchenko reminded.
The Ministry of Finance added that the meeting once again confirmed the intention of the two states to enhance economic cooperation.
"Despite the COVID-19 pandemic, we are observing an upward trend in bilateral trade and looking forward to continuing this positive tendency. One of our top priorities is to attract investment in the economies of the two countries and strengthen business cooperation," Marchenko stressed.
During the visit, the Qatari delegation held a series of meetings with representatives of the Ukrainian agrarian business to discuss the possibility of increasing exports of Ukrainian products, including wheat and animal feed.
As Ukrinform reported, on September 2, the Ukrainian Ministry of Agrarian Policy and Food signed memoranda of understanding with the Qatari company Baladna and Widam Food Company. The parties reaffirmed mutual interest in developing the dairy industry, particularly dairy product processing.
iy