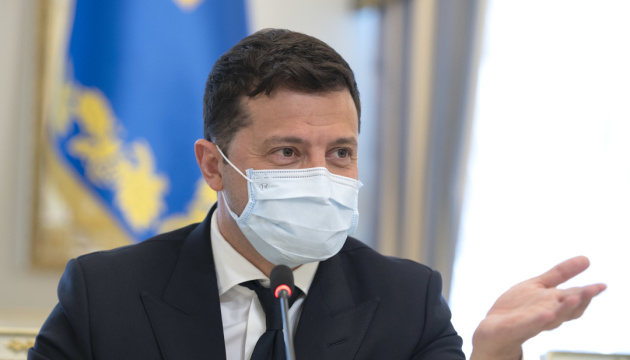 Zelensky discusses with French company officials models of creating national air carrier
President of Ukraine Volodymyr Zelensky has met with Marc Rochet, CEO of Aerogestion, a French consultancy, to discuss the optimal models of creating a national air carrier of Ukraine.
That's according to the president's press service, Ukrinform reports.
The president spoke of a number of large infrastructure projects currently being implemented in Ukraine, including road construction and overhaul, as well as modernization of regional airports.
Volodymyr Zelensky noted that the Ukrainian market of air transportation services does not meet all the strategic needs of the state, which prompted the decision to create a national air carrier.
Its founding should offer passengers affordable and convenient flights between Ukrainian regions, promote decentralization of international air transportation, and provide an impetus for the development of the country's overall tourism potential.
The president of Ukraine noted that "this large-scale project already has the support of international partners." In particular, the French government initiated a grant to provide a consultant for the effort.
"We're launching this work. This year we seek to get a competitive state-owned air carrier," Volodymyr Zelenskyy told the Aerogestion CEO, noting that Ukraine is willing to consider ideas for the project's implementation.
Marc Rochet, for his part, noted that the Ukrainian air carriers market has been fragmented, besides being affected by the COVID-19 pandemic. Nevertheless, he added, there are opportunities to create a national airline.
"I really believe that air transport is perhaps the most relevant for Ukraine, for people, especially in times of crisis, it is necessary to be able to travel and have a normal life," said Marc Rochet.
The report says the meeting was also attended by Prime Minister of Ukraine Denys Shmyhal, Minister of Infrastructure Oleksandr Kubrakov, Deputy Head of the Office of the President Iuliia Svyrydenko, and Aerogestion expert Pierre Denizet.
Memo
Aerogestion, founded in 1999 by Marc Rochet and Dominic Gretz, specializes in the development and restructuring of air carriers. Over time, the company expanded its activity to cover profit management. At the moment, Aerogestion's team includes nearly 15 consultants with an average of 20 years of experience in air transportation, advising on business management, commercial strategies, profit management, and business restructuring and transformation.
im