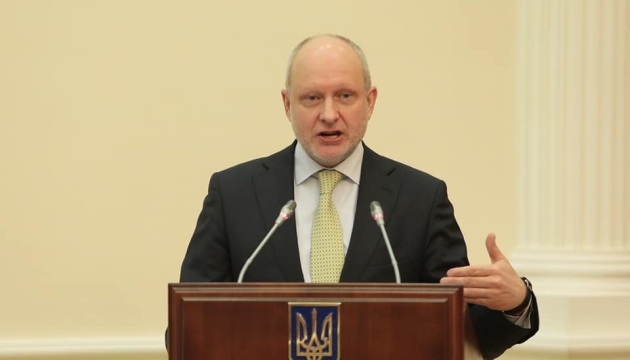 Maasikas: Ukraine has deposits of 21 raw materials critical to EU
Ukraine has deposits of 21 rare earth elements from the EU's list of 30 critical raw materials for the production of devices to develop green energy, in particular, batteries.
"Our common carbon-free future requires the widespread use of electric cars, wind turbines, solar panels, and energy storage facilities. This technological shift depends on reliable access to the critical raw materials used for these devices. The EU has identified 30 raw materials that are critical to such a transition. Ukraine has reserves of 21 elements," Head of the EU Delegation to Ukraine Matti Maasikas summed up the results of the High Level Conference on the Strategic Partnership between the European Union and Ukraine on Critical Raw Materials and Batteries held in Kyiv on July 13, an Ukrinform correspondent reported.
He stressed that this circumstance, as well as Ukraine's huge potential in innovation and technology and close proximity to the EU, were crucial to a successful partnership between Ukraine and the EU.
Maasikas also noted that signing a memorandum of understanding on critical raw materials was only the first step. Now Ukraine and the EU should promote investment, create funding opportunities, and support key industrial players. This will help them to develop reliable and sustainable projects that cover all stages of the process, from production and extraction of elements to their processing and disposal. All this requires further approximation of Ukrainian and European extractive sector regulations.
"Ukraine has great potential to increase the production of local raw materials, but a key element of reforms in this industry is a proper legal framework which still remains a barrier for investors. The EU stands ready to assist in this effort. We are already providing technical assistance to help the Government develop a vision of new rules that will create more attractive conditions for investment and provide clear requirements for licensing and environmental objectives," said the Head of the EU Delegation to Ukraine.
He stressed that the strategic partnership between Ukraine and the EU in the field of critical raw materials would contribute to stronger bilateral political ties and economic relations. Such a partnership will open opportunities to create mutually beneficial added value in the extractive sector and the production of batteries, accelerate the economic and social development of Ukraine, promote investment and find opportunities to modernize its industry.
On July 13, Ukraine hosted the High-Level Conference "Strategic Partnership between the European Union and Ukraine on Critical Raw Materials and Batteries" with the participation of Prime Minister of Ukraine Denys Shmyhal and Vice-President of the European Commission Maroš Šefčovič. The event was attended by representatives of European institutions, international financial institutions, industry, business, and researchers.
ol