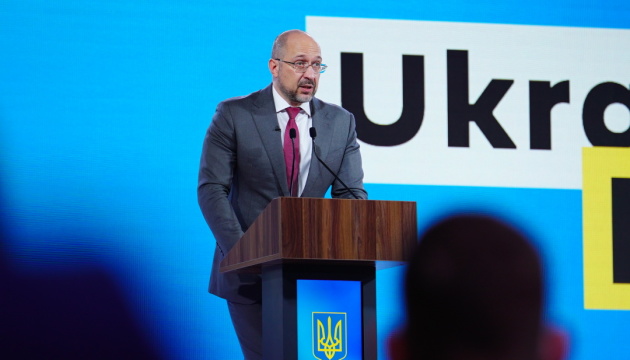 PM Shmyhal: Oligarchic system of relations slows down development of our country
The oligarchic system of relations that has formed in Ukraine slows down the country's development and reduces the chances of an "economic miracle."
"Everyone agrees that the system of economic relations, which has long been formed in our country, slows down our development and reduces the chances of the Ukrainian 'economic miracle'. It is an oligarchic system of relations that has interlinked economy and politics," Prime Minister Denys Shmyhal said at the All-Ukrainian Forum "Ukraine 30. Economy without Oligarchs", an Ukrinform correspondent reports.
He stressed that the oligarchic system includes inefficient enterprises, monopolies, lack of competition, pressure from law enforcement agencies, regulation of relations between state and business. "For us, such a system of relations has nothing to do with building a successful state on a competitive basis," the Prime Minister added.
Shmyhal said that the Government welcomed the initiative of President Volodymyr Zelensky to separate business from politics by submitting a bill on the oligarch status.
The Prime Minister also called corruption one of the main lines of the oligarchic system of relations. According to Shmyhal, it was corruption that created a low political culture, meaningless regulations. Therefore, the Government is now focused on institutional changes that will prevent corruption.
As reported, on June 2, President Volodymyr Zelensky submitted to the Verkhovna Rada bill No.5599 "On Prevention of Threats to National Security Associated with Excessive Influence of Persons with Significant Economic or Political Heft in Public Life (Oligarchs)."
ol