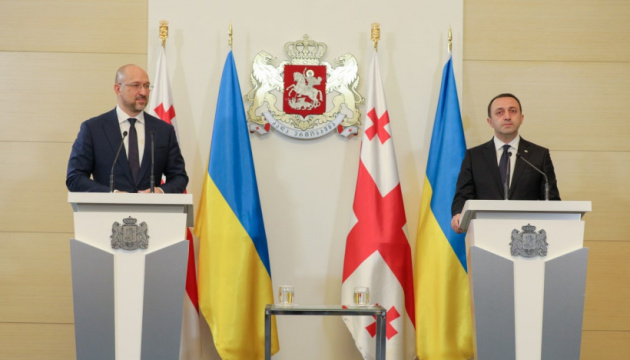 Ukraine, Georgia to elaborate joint approaches to renewable energy development
Energy security is one of the key areas of Ukraine–Georgia cooperation, within which the countries will elaborate common approaches to the development of renewable energy.
Prime Minister of Ukraine Denys Shmyhal made a corresponding statement after a meeting with Prime Minister of Georgia Irakli Garibashvili in Tbilisi, Ukrinform reports with reference to the Government portal.
In particular, Shmyhal informed about the agreement reached with Garibashvili to promote the development of green energy and energy efficiency.
"This should be facilitated by signing a Memorandum of Understanding between the relevant agencies of our states. This document will be the basis for the elaboration of joint approaches aimed at developing renewable energy markets in our countries," Shmyhal stressed.
The parties also agreed to strengthen cooperation in the fields of security, trade, energy, and tourism. In particular, the heads of government discussed security issues in the context of Russia's long-term destabilization in the Black Sea region.
"Black Sea security must become a priority for NATO. We support the Alliance's readiness to expand its activities in the Black Sea region. Cooperation on Black Sea security plays an important role in strengthening NATO's south-eastern flank," Shmyhal noted.
During the meeting, the heads of government agreed that Ukraine would co-sponsor draft UN General Assembly resolutions on the withdrawal of Russian troops illegally stationed in Abkhazia and Tskhinvali region / South Ossetia, as well as on the status of internally displaced persons and refugees in Georgia.
In addition, the parties discussed the joint development of international transport corridors and ways to attract investment in the modernization of transport infrastructure.
Shmyhal stressed that the Government of Ukraine was ready to make every effort to promote the participation of foreign investors, including Georgian ones, in the implementation of large-scale infrastructure projects.
The Prime Minister of Ukraine makes an official visit to Georgia on June 2-4. The government delegation also consists of Minister of the Cabinet of Ministers Oleh Nemchinov and Minister of Culture and Information Policy Oleksandr Tkachenko.
ol
ol