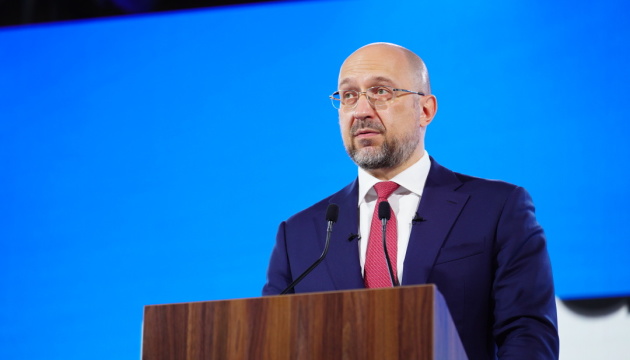 Ukrainian communities competing for investors - Shmyhal
Ukrainian communities are competing for investors for economic development due to the implementation of the decentralization reform, Ukrainian Prime Minister Denys Shmyhal has said.
He said this at the international investment forum "UkraineInvest Talks: Dnipro" in Dnipro on Thursday, May 27, according to an Ukrinform correspondent.
"Communities have started fighting for investors, and that's very good, because community leaders who understand their responsibility for the future pay attention to growth points and things that will provide additional opportunities - professional education, cooperation with business," Shmyhal said.
He stressed that the decentralization reform helps establish cooperation between communities and investors, as local government agencies have more power to do so.
Shmyhal also said that the government was implementing the president's idea of creating a national investment fund and expressed confidence that this tool would work extremely efficiently and would give good and quality results in the future.
The forum "UkraineInvest Talks: Dnipro" is aimed at popularizing the investment environment in the Ukrainian regions. The participants in the event include mayors, representatives of the business community, international financial organizations, and experts.
Among the key topics are investment policy and regional development, investment incentives for projects with significant investments, the experience of investors working in the regions, the construction of "investment bridges" between Ukrainian regions and the world.
The event "UkraineInvest Talks: Dnipro" was organized by the Ukrainian government's investment promotion office UkraineInvest, together with Dnipro City Council and Dnipro Development Agency and in partnership with the USAID Competitive Economy Program in Ukraine.
op