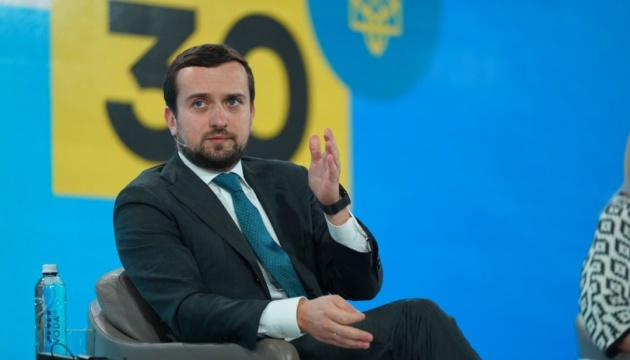 Tymoshenko: Ukraine enters final straight of opening civilized land market
In 2021, Ukraine will enter the final straight of implementing land reform and opening a civilized land market.
"Thanks to the President of Ukraine, thanks to the Verkhovna Rada, the Cabinet of Ministers and thanks to the communities, we all have achieved the implementation of land reform at a great pace. And we are already at the final straight of full-fledged land market opening," Deputy Head of the President's Office Kyrylo Tymoshenko said at the All-Ukrainian Forum "Ukraine 30. Land", an Ukrinform correspondent reports.
The central government is interested in local communities starting to manage the land, he noted.
"Communities start to have additional funds. And we, especially within the framework of Great Construction project, are always interested in co-financing projects under construction – especially social infrastructure facilities (schools, kindergartens, roads, etc.) – by communities," Deputy Head of the President's Office said.
According to him, bill No. 2194 ("On amendments to the Land Code of Ukraine and other legislative acts to improve management and deregulation of land relations"), signed by President Volodymyr Zelensky on May 24, will be one of the main documents on land decentralization.
"It can be called a land constitution for communities," Tymoshenko stressed.
At the same time, the official added, land market opening and transferring land into communities' possession means a great responsibility for local self-government.
ol