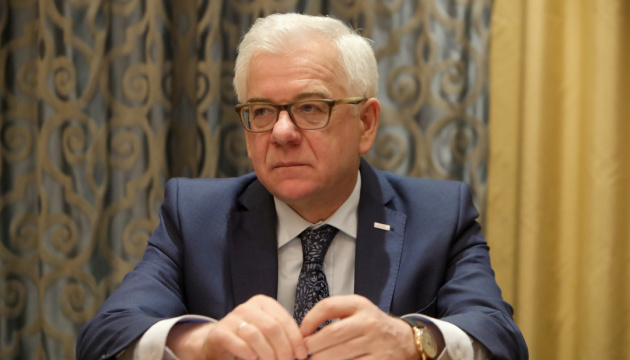 Czaputowicz: Ukraine could join EU's infrastructure projects
Ukraine could join the initiatives of Eastern European member states of the European Union, in particular in the field of infrastructure.
"We could build infrastructural relations with Ukraine. I mean such EU countries as Poland, Slovakia, Hungary. And Ukraine would benefit from this," ex-foreign minister of Poland Jacek Czaputowicz said during an online discussion of the Kyiv Security Forum dedicated to the Europe Day in Ukraine, an Ukrinform correspondent reports.
He added that Ukraine and EU countries could work more closely on energy security.
"Poland wants to be independent of Russia in gas imports. That's why we joined the North Sea route, the Baltic Pipe, we have an LNG terminal and signed an agreement with the United States on the supply of liquefied natural gas," said the ex-minister.
Another important format for Ukraine, he said, is the so-called Lublin Triangle, created by Poland, Lithuania, and Ukraine.
"This is a smaller, but also very useful format for Ukraine, for consultations on security, economic cooperation, solving certain historical problems," Czaputowicz noted.
He stressed that Ukraine could not fully participate in some associations, as they are limited to EU member states, but could receive observer status.
"One of the observers is the United States, the other is Germany. Ukraine would fit well into such a format," Czaputowicz summed up.
ol