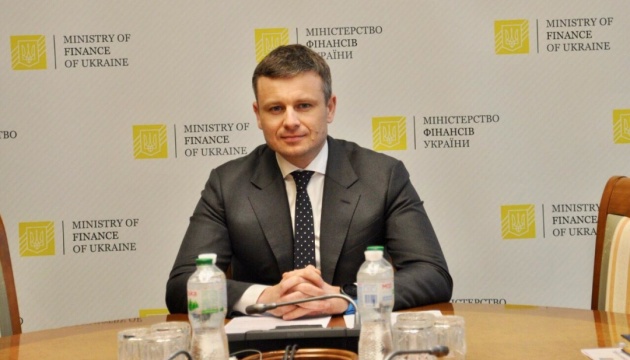 Ukraine expects to receive EUR 600M in aid from EU by Sept – Marchenko
Ukraine expects to receive the second tranche of EU macro-financial assistance in the amount of EUR 600 million by September 2021.
Minister of Finance of Ukraine Serhiy Marchenko said this at a meeting with Katarína Mathernová, Head of the Support Group for Ukraine (SGUA), Deputy Director General (DDG) for Neighbourhood and Enlargement Negotiations at the European Commission, the ministry's press service reports.
"We are grateful to the European Commission for its support and assistance in December 2020 when we received the first tranche worth EUR 600 million. The Ukrainian government and the Ministry of Finance are doing everything possible to fulfill the conditions of the program to receive the second tranche from the EU in September 2021," Marchenko said.
The ministry recalled that Ukraine must fulfill a number of obligations to receive the second tranche, namely: initiate and continue reforms in areas such as public financial management, good governance and the rule of law, as well as improve the business climate, sectoral reforms and state-owned enterprises.
The meeting participants also discussed further cooperation in the formation and implementation of the Public Finance Management (PFM) system for 2021-2025, the development of the Public Finance Management Support Programme for Ukraine (EU4PFM), the creation of the Bureau of Economic Security, and continued cooperation with the IMF.
Marchenko, in particular, thanked the European side for cooperation within EU4PFM, since this project is the largest both in terms of coverage of reform areas and the amount of support.
The minister also commented on the current state of the negotiation process with the IMF. According to him, Ukraine is engaged in an active dialogue with the Fund to address three main issues, in particular maintaining the independence of the National Anti-Corruption Bureau, holding competitions for positions in the High Council of Justice, and introducing a law on criminal liability for false information in asset declarations.
"Other issues related to budgeting, budget consolidation, the National Bank of Ukraine, and energy have already been resolved," Marchenko assured.
ish