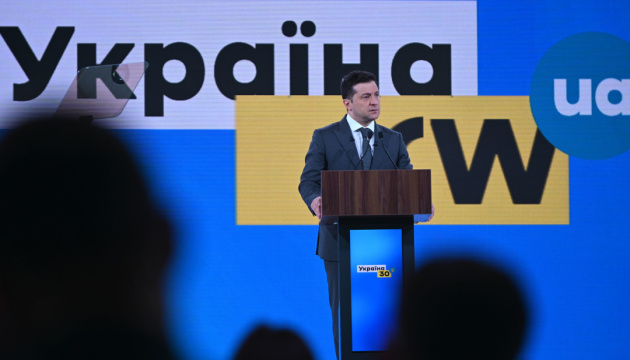 Zelensky: We have every reason to expect economic growth in Ukraine in 2021
There are all preconditions for economic growth in Ukraine in 2021, President Volodymyr Zelensky has stated.
"Now we are recovering and we have every reason to expect economic growth in 2021," Zelensky said during the All-Ukrainian Forum "Ukraine 30. Small and Medium-Sized Business and the State", which he attended together with President of Lithuania Gitanas Nausėda on March 18, the president's press service reports.
Zelensky stressed that the measures taken by the government allowed Ukraine in 2020, during the coronavirus crisis, to survive and get less fall compared to many countries. In particular, more than 160 decrees, which hampered business development with numerous restrictions, were repealed. Laws have been passed on the concession, the land market, state support for investors.
"We have achieved good macroeconomic indicators - record low inflation in the history of Ukraine, the discount rate of the National Bank of Ukraine and the maximum level of gold and foreign exchange reserves over the past eight years. Ukraine has risen in the Doing Business rating and raised its credit rating," he said.
The President also focused on the launch of the program "Affordable loans at 5-7-9%", under which small and medium-sized businesses received more than UAH 10 billion. In addition, the public services portal "Diia" was launched, which made it possible to register a private entity in 15 minutes.
Zelensky said that based on the results of the state audit, the government has developed and approved the National Economic Strategy until 2030 with specific goals and objectives for each industry, and small and medium-sized businesses are given maximum attention.
"Of course, in all the reforms necessary for sustainable economic growth, the support and experience of our friends and our international partners, in particular Lithuania, is important. The joint work of business circles of our countries has a good history and significant prospects," said Zelensky.
The President reminded that the Ukrainian-Lithuanian Business Council actively works, the Confederation of Lithuanian Industrialists, the Chamber of Commerce and Industry of Ukraine and the Ukrainian Union of Industrialists and Entrepreneurs cooperate, and a dialogue has been established between business associations of both countries. In addition, the fourth International Conference on Reforms in Ukraine will take place in Vilnius this summer.
Zelensky also thanked his Lithuanian counterpart for participating in the forum and willingness to share valuable European experience that will be useful for both civil servants and Ukrainian entrepreneurs.
As reported by Ukrinform, President of Lithuania Gitanas Nausėda is on an official visit to Ukraine on March 18-19.