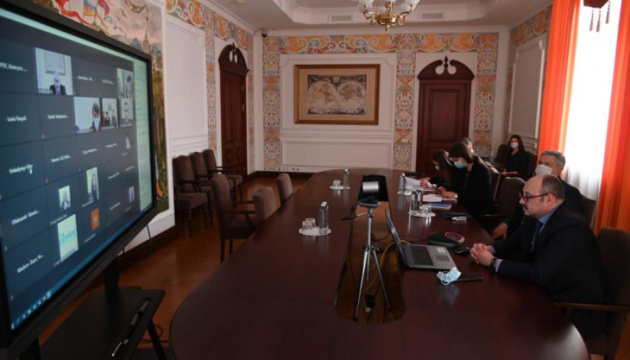 Ukrainian exporters to benefit from establishing joint ventures with Egypt
Ukrainian exporters, interested in entering the Egyptian markets, will benefit significantly from the establishment of joint ventures with localization of production in this country.
"The establishment of joint ventures and the organization of production in the territory of Egypt can provide Ukrainian companies with access to a market of 1.3 billion consumers with a total GDP of $3.4 trillion. If the appropriate level of localization of production is reached, the goods are considered to be made in Egypt and have the right to duty-free movement both within the country and within the existing economic integration associations (African countries and most Arab countries)," Ambassador of Ukraine to Egypt Yevhen Mykytenko said at an online briefing for Ukrainian exporters entitled "Entering market and doing business in Egypt", the press service of the Ministry of Foreign Affairs of Ukraine informs.
Ukrainian diplomats acquainted Ukrainian business representatives with the overall economic situation in Egypt, the peculiarities of operation in local markets.
In particular, they said that Ukraine ranks 11th among exporters to Egypt, accounting for 2.8% of total country's imports. As noted, Ukrainian goods with a high level of added value are promising: products of mechanical engineering, shipbuilding and car building industries, energy equipment, high-tech products of aviation and space industries, as well as increasing exports of scientific and technical, engineering, information, educational and other services.
According to the Ministry of Foreign Affairs' data, the total volume of Ukraine-Egypt trade in goods (for 12 months) and services (for 9 months) amounted to $1,772 million in 2020.
Exports of Ukrainian goods to Egypt amounted to $1,618 million, imports - $75 million.
For nine months of 2020, Ukraine-Egypt trade in services amounted to $79 million. Ukrainian companies provided services to Egypt to the tune of $24.34 million, Egyptian companies to Ukraine – $54.43 million.
ol