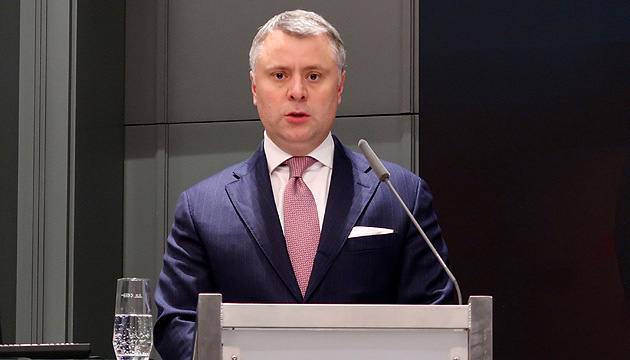 Vitrenko: Ukraine's gas market needs government intervention
The situation in Ukraine's gas market, which is largely controlled by oligarchs in the network of regional suppliers, needs government intervention.
"Efficient [energy] market needs a strong role of the state," Acting Energy Minister of Ukraine Yuri Vitrenko said during a video conference organized by the U.S.-Ukraine Business Council on January 27, an Ukrinform correspondent reported.
According to him, the steps already taken by the Government to resolve the situation in the gas market are not enough.
"When prices drop, mainly in the summer, it will seem that the problem is over. However, as soon as prices start to rise, the problem will become obvious. And that's why the Government should intervene," Vitrenko stressed.
In this context, he said that his team is working, including with the International Monetary Fund, to find a systematic solution to the situation.
"They [IMF] only say that the current measures taken quickly [by the Government] are not a sustainable solution. Now we and the IMF are working to develop a reliable solution," the official said.
Vitrenko stressed that in order to achieve a stable situation in the energy sector, it is first necessary to ensure the rule of law, as well as transparency and integrity of the Ukrainian energy market. He also noted that systemic corruption, which poses a threat to the national security in general, remains a serious problem.
"Very often, as we could see, corruption in Ukraine was stimulated and promoted by Russia. This is one of the examples of Russia's malicious influence, because they need a weakened and corrupt Ukraine," Vitrenko stressed.
He added that the most corrupt officials in Ukraine were often backed by the Kremlin. Therefore, according to him, anti-corruption measures should also remain a top priority of Ukraine's agenda.
As reported, on January 18, the Cabinet of Ministers adopted a decision to reduce the maximum gas price to UAH 6.99 per one cubic meter of gas. If suppliers refuse to provide gas to the population at such a price, their consumers will switch to the NJSC Naftogaz of Ukraine as a supplier of last resort.
At a meeting on January 19, the National Commission for State Regulation of Energy and Public Utilities set the maximum tariff for gas distribution at UAH 1.79 per one cubic meter of gas.
ol