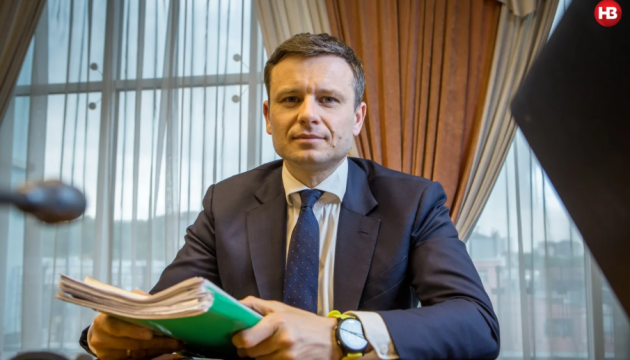 Ukraine implemented four of ten structural benchmarks under program with IMF - Marchenko
Ukraine has implemented four out of ten structural benchmarks under a program of cooperation with the International Monetary Fund (IMF), and the implementation of two more is in the final stage, Ukrainian Finance Minister Serhiy Marchenko has said in an interview with the Minfin financial news portal.
"We have already implemented four of the ten structural benchmarks of a memorandum with the IMF. […] Work has been done to reduce non-performing loans. For example, in September, the share of non-performing loans (NPLs) in the banking sector decreased from 48% to 45.6%. Finally, the gas market has been launched for private consumers, who can now choose their own gas supplier. Tasks on customs and tax reform were also fulfilled - unified legal entities were created, the charter of Naftogaz was improved and changes were made to the regulations governing the salaries of supervisory boards and boards of state-owned companies. By the way, this was one of the problematic issues, and now it has been resolved (the Cabinet of Ministers adopted a resolution of October 26, 2020, No. 996 'Some issues of remuneration of managers, members of executive bodies and remuneration of members of supervisory boards of public sector entities'). The implementation of two more structural benchmarks is being finalized," the Ukrainian Finance Ministry's press service quoted Marchenko as saying.
He expressed hope that Ukraine would still receive a tranche from the IMF this year.
"We hope that we will receive the funds in 2020, at least we are doing everything possible for this," Marchenko said.
In June 2020, Ukraine received a $2.1 billion loan from the IMF and was to receive two more worth $700 million each by the end of the year. According to preliminary calculations by experts, Ukraine will be able to receive only one tranche by the end of the year.
op