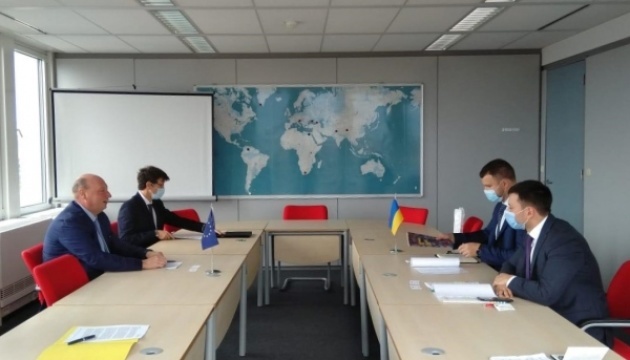 Minister Kryklii: Ukraine seeks road freight transport liberalisation within Association Agreement renewal
Minister of Infrastructure of Ukraine Vladyslav Kryklii has stated that Ukraine seeks to include the liberalisation of international road freight transport services in the renewed Association Agreement with the European Union.
"We expect the introduction of unimpeded access for international transit of goods by road freight transport without restrictions on quotas for permits and the abolition of the system of permits for international road freight transport services for Euro 5 and Euro 6. And we ask the European side to consider the inclusion of road freight transport liberalisation agreement in the renewed EU-Ukraine Association Agreement," Kryklii said at a meeting with European Commission's Director-General for Mobility and Transport Henrik Hololei within the framework of the 22nd EU-Ukraine Summit, the press service of the Ministry of Infrastructure of Ukraine reports.
The parties also discussed the implementation of projects under the Indicative TEN-T Investment Action Plan.
"Ukraine is gradually joining the EU's transport and logistics corridors and is becoming an important transit route between Europe and Asia. And we are ready to further develop this area. We strive to implement all projects envisaged by the Indicative TEN-T Investment Action Plan. These projects cover 4,800 km of roads and railways, 6 modern ports and 11 logistics centers in Ukraine. We are focused on opening and raising efficiency of Ukrainian inland waterways. Expansion of the TEN-T network to the rivers of neighboring countries is of paramount importance to us. Therefore, we very much expect that Ukraine's inland waterways will be included in the TEN-T regional network along with the Ukrainian part of the Danube. For our part, we make every effort for this," the minister said.
Kryklii noted that Ukraine was waiting for the stance of the European Commission on legal mechanisms to prevent restrictions on navigation and continuous operation for Ukrainian vessels on the Danube after 18 January 2022.
In addition, the Ukrainian side is ready to carry out all necessary internal procedures to sign the Protocol to Interbus Agreement regarding the international regular and special regular carriage of passengers by coach and bus, as well as the Protocol for the Accession of the Kingdom of Morocco.
The parties also discussed Ukraine's technical integration into the EUROCONTROL route charges system, implementation of important infrastructure projects, in particular in the Sea of Azov region, as well as signing of the Common Aviation Area Agreement with the EU and bringing the Ukrainian transport legislation in line with respective European laws within the framework of the EU-Ukraine Association Agreement.
As reported, the 22nd EU-Ukraine Summit is held in Brussels on October 6.
ol