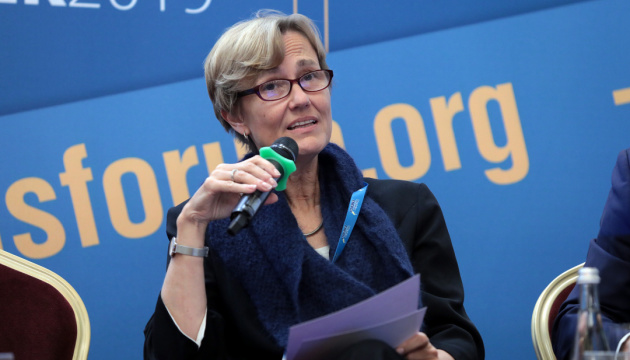 Pharmaceuticals and clean energy: German ambassador sees opportunities for cooperation with Ukraine
Ambassador of the Federal Republic of Germany to Ukraine Anka Feldhusen sees several opportunities for Ukraine-Germany economic cooperation, mentioning pharmaceuticals industry and clean energy among them.
"I see two opportunities. The first is the fact that Ukraine is located very close to Germany, to Europe. I think we can move production here, for example, of drugs that are now [produced] either in China or in India. We got to know that it is better to have them closer because there are logistical problems with delivering them to Germany. Moreover, the pharmaceuticals industry in Ukraine is quite strong, and I believe it has a lot of opportunities," the Ambassador said in an interview posted on YouTube channel of the Ministry of Foreign Affairs of Ukraine.
The development of clean energy initiatives was named the second opportunity for bilateral cooperation.
"We want to revive Europe's economy through different and more eco-friendly standards after the crisis. There are a lot of respective funds in Europe and Germany now, and I think this is a good opportunity for Ukraine to join. Clean energy in Ukraine has always been very interesting for German investors," the German Ambassador to Ukraine said.
Ambassador Feldhusen also noted that German investments in Ukraine remained at the level of 2015.
"When I arrived a year ago, I was very unhappy to see that German investments [in Ukraine] are still at the same level as in 2015. Frankly speaking, the reason is insufficient judicial reform. Our investors don't think they can defend their rights in a fair court, and this is an obstruction. And everyone knows about it because one company tells another. I speak about this with everyone because the interest of German investors was great before the crisis, and I think it will be great after the crisis," Feldhusen said.
As reported, in February 2020, Ambassador Feldhusen stated that German investors were interested in entering the Ukrainian market but they must be confident in the possibility of protecting their investments in Ukraine.
ol