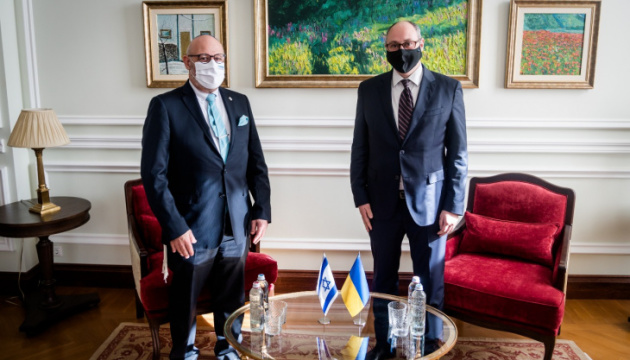 Ukraine's deputy foreign minister, Israeli ambassador discuss free trade between countries
Deputy Foreign Minister of Ukraine Dmytro Senik and Ambassador of the State of Israel to Ukraine Joel Lion emphasized the need for the Israeli government's early ratification of a Free Trade Agreement between Ukraine and Israel.
The diplomats discussed this issue at a meeting on Monday, September 14, according to the website of the Ministry of Foreign Affairs of Ukraine.
During the meeting, the parties discussed a number of issues of bilateral cooperation, including the intensification of high-level bilateral contacts and interaction between Ukraine and Israel in international organizations.
The interlocutors exchanged views on the security situation in the Middle East, in particular in the context of the agreements reached through the mediation of the United States on the normalization of relations between Israel and the UAE and Israel and Bahrain.
"Dmytro Senik and Joel Lion paid special attention to cooperation in the trade sector. In particular, they noted the need for early ratification by the Israeli government of the Free Trade Agreement between Ukraine and Israel," the report says.
Senik outlined the achievements and challenges facing the Ukrainian Foreign Ministry in the context of the introduction of electronic services and resources. Taking into account the significant experience of Israel, the parties discussed the possibilities of implementing joint projects in this area.
The deputy foreign minister also informed about the steps taken by the competent authorities of Ukraine to monitor the situation of the pilgrimage of the Breslov Hasidim to the city of Uman to celebrate Rosh Hashanah on September 18 and to prevent the deterioration of the epidemiological situation.
In the context of countering the COVID-19 pandemic, the interlocutors exchanged information on measures taken by the governments of both countries to combat the spread of coronavirus, and discussed areas for further interaction, the Foreign Ministry added.
ish