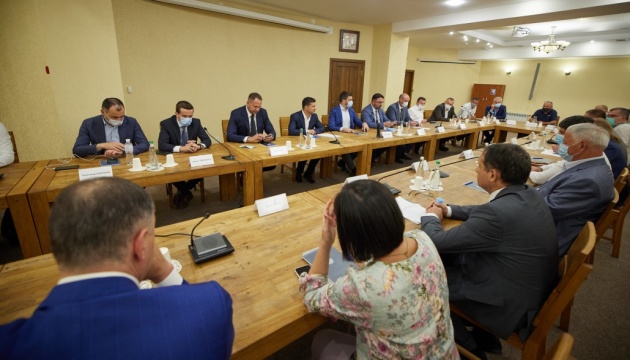 President meets with entrepreneurs of Kirovohrad region
During a working trip to Kirovohrad region on August 27, President of Ukraine Volodymyr Zelensky met with local business representatives and discussed urgent issues with them.
According to the press service of the head of state, the participants of the meeting spoke about the debt of NNEGC "Energoatom" to RPE "Radiy" for the supplied equipment for the modernization of power units at nuclear power plants.
The President noted that the issue of repaying Energoatom's accounts payable and the company's stable financial position is important both for the operation of the fuel and energy complex and for suppliers. The parliament recently passed the law on measures aimed at repaying debts incurred in the wholesale electricity market. It will systematically resolve the issue of accumulated debts.
"The government is working on the implementation of the document. In addition, the President instructed the Cabinet of Ministers and the Ministry of Energy of Ukraine to resolve problematic issues of repayment of NNEGC "Energoatom" debts to suppliers," the report reads.
The parties also discussed the provision of industries with qualified economists and engineers.
According to the head of state, enterprises should financially support specialized technical schools and colleges by investing in the knowledge infrastructure.
The participants also discussed the impact of adverse weather conditions on the harvest in many regions. It was noted that this year there was little rainfall and severe drought, which negatively affected the harvest. Given the long-term climate change not only in Ukraine, but also in the world as a whole, this could be a problem for years.
The President noted that a long-term response is needed. "We need to create new irrigation systems, crop insurance programs. Don't worry: the government is already doing this - a bill on insurance is being developed," he said.
Zelensky also appealed to the government and the Ministry of Economic Development, Trade and Agriculture to urgently determine what can be done this year to help farmers.
ish