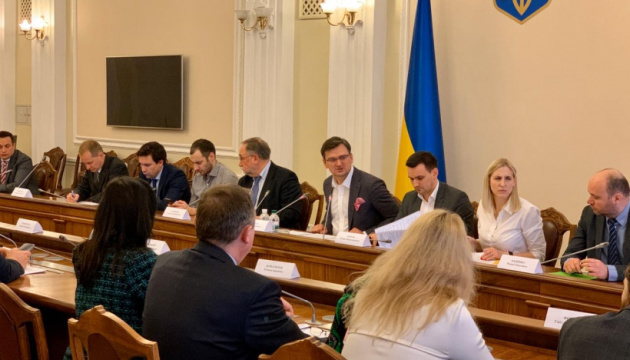 Vice PM Kuleba: Ukraine needs new large-scale projects with China
Ukraine needs to remove trade barriers with China, as well as to launch profitable large-scale projects and open up new opportunities.
"China is our strategic partner. On the one hand, we should support the overall political framework of cooperation. On the other hand, we should launch new profitable large-scale projects for Ukraine and open up new opportunities, in particular, to increase intensity of trade and development of the Ukrainian economy and infrastructure," Vice Prime Minister for European and Euro-Atlantic Integration of Ukraine Dmytro Kuleba said at a meeting of the Ukrainian side of the Ukraine-China Commission on Cooperation on January 31, the Government portal reports.
During the meeting together with the representatives of the ministries and Ambassador of Ukraine to China Serhiy Kamyshev, the implementation of the previous agreements and projects and the results and action plans of the sectoral subcommittees and the working group on investments were analyzed, promising directions of further cooperation were determined.
Following the meeting, Kuleba instructed to prepare the list of promising projects in all areas of the Commission's activity for further discussion with the Chinese side.
The plans include the expansion of trade and, in particular, the removal of trade barriers. Apart from trade and economic area, the key fields of Ukraine-China cooperation are research and technology, space, agriculture, culture, education and medicine. In each of these areas, subcommittees work and joint projects are implemented. For example, 34 Ukrainian research projects are being carried out by Ukrainian scientists along with their Chinese counterparts. Space cooperation is also underway. As part of the five-year plan, Ukrainians participate in the Chinese Lunar Exploration Program. There is also interest in joint cinema production. In addition, Ukraine seeks to implement a number of new energy, infrastructure and other investment projects with China.
Over the first 11 months of 2019, China became the largest trading partner of Ukraine. The trade turnover increased by 32.5% up to $11.7 billion. The key priorities of Ukraine-China cooperation are agriculture, energy and energy efficiency technologies, tourism, cultural and scientific exchange, space industry.
ol